SIP Analog Modem Server – Telocator Alphanumeric Protocol Gateway
The SAMS Telocator Alphanumeric Protocol (TAP) Gateway combines VOCALs SAMS modem software and TAP v1.8 to provide a solution for alphanumeric messaging applications. The Telocator Alphanumeric Protocol (TAP) has been extensively used for transmitting messages and notifications over circuit switched data connections for ultimate delivery to cell phone or pager devices. Traditionally, TAP endpoints are required to dial into carrier owned and operated TAP gateways to transmit their messages. As traditional circuit switched analog lines are being removed, the carriers are no longer supporting TAP operations and leaving existing deployments behind. Applications such as industrial control equipment, HVAC/Smart building controls, network monitors, on-call notification, and environment sensors have lost their means of notification during trouble events.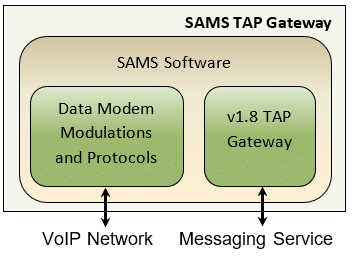 The SAMS TAP gateway can provide ongoing support for these legacy applications. SAMS is designed to operate in virtual environments with a VoIP connection and it does not require any physical telephone connections. SAMS implements a TAP v1.8 gateway and terminates incoming Alphanumeric/Page messages. These messages are delivered over a generic interface ready to be relayed to a selection of frameworks including email and Twilio SMS. The SAMS TAP gateway is designed to provide a migration path that does not require any hardware changes to the TAP endpoint devices.
The SAMS TAP gateway is built around VOCALs SIP Analog Modem Server which provides a full modem stack designed to operate over a VoIP connection. In addition to operating as the communication engine for alphanumeric messaging, SAMS can also provide traditional data modem services. For example, technicians and engineers can dial back into remote industrial equipment for debugging and monitoring. This functionality enables the consolidation of services and facilitates the removal of additional phone lines and hardware modems.

Use Cases:
Network fault monitoring
Industrial metering and error reporting
Environmental sensors
Smart building management including Trane HVAC equipment
Critical communications/On-call notification
Features
100% software solution easily migrates to the cloud
Runs on any standard Linux and Windows distribution
Replaces existing hardware TAP gateways
Scalable – enables a large number of modems on a single server (10s to 100s depending on the server and modem rates)
Generic messaging interface for customizable message handing
Registers with one or more SIP servers (can be phone number per line, modem pool hunt, or other combinations)
Requires no analog audio interface
Slaves to far end modem clock to eliminate skew
High speed data modulation – V.34, V.90, V.92 (optional)
Low speed data modulation – V.32, V.32bis, V.22, V.22bis, V.23, V.21
Bell modulation – Bell 212, Bell 103
Supports standard protocols such as V.42 / LAPM, MNP 2-4
Supports standard compression protocols such as V.42bis and MNP5
More Information