Lawful Interception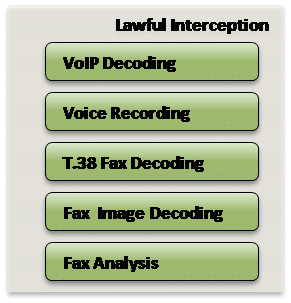 VOCAL's Lawful Interception solutions are available for voice, video, fax/facsimile and data communications, including.
VoIP video and audio decoding
Analog voice/fax monitoring and recording
Analog fax demodulation and decoding
T.38 Fax over IP decoding
Input recorded files and real-time sources
Process PSTN and IP network intercepts
Turn-key designs and custom solutions

As an industry leader in lawful interception solutions, our expertise in the design, implementation and configuration of products for fax, VoIP, network, and telephony will help you develop your application quickly and efficiently. Contact us to discuss your lawful interception application requirements with our engineering staff.
Lawful Interception (LI) is the process by which targeted communications traffic is intercepted for delivery to a law enforcement agency (LEA) based on a warrant or court order.
Lawful Interception Solutions
VOCAL's Lawful Interception software libraries are modular and optimized for DSPs and conventional processors from TI, ADI, ARM, Intel and other leading vendors.  Our software provides a foundation for a complete lawful interception solution. Custom and turn-key designs are also available to meet your specific application requirements.
More Information