VoIP Software provides a comprehensive Voice over IP software solutions for a wide range of Voice, Video, Radio and Mobile VoIP applications.
Full featured VoIP telephony
Robust speech enhancement
Tested VoIP interoperability
Secure communications
Optimized for DSPs, ARM and other microprocessors

Vocal's Voice Over Internet Protocol Software
VOCAL's VoIP software includes adaptive jitter and voice quality enhancement algorithms with robust noise reduction, echo cancellation and dereverberation. Together with VoIP encryption using secure SIP, SRTP, SDES, IPsec and other secure protocols, our voice over internet protocol software can ensure privacy and security of all communications. Our software libraries are fully integrated and highly configurable, including a SIP client and server with Network Stack and a broad selection of VoIP vocoders. Contact us to discuss your VoIP software application requirements.
Voice Over IP Software Features
VoIP stack, adaptive jitter and native API
SIP and/or RTSP support with multiple VoIP providers
Multi-channel audio support for independent devices
Encrypted communication using secure RTP (SRTP) with SDES or proprietary key negotiation
Network stack with NAT/firewall support
Standard vocoders available, e.g. MELP, G.722, Speex, Opus, etc.
High performance noise preprocessor
An extensive set of telephony features
Call progress tones with world-wide configurability
Quality of service configurability
Voice quality enhancement with echo cancellation, noise reduction and dereverberation
WAN support (Ethernet, cable modem or DSL) and WLAN support
Optimized for DSPs, ARM and other microprocessors
MISRA compliant version (with limited deviations) available
Interoperability
VOCAL ensures compliance with the latest standards and conducts comprehensive compatibility and interoperability testing to verify our VoIP software is fully interoperable with products from Cisco, Quintum, NetCentrex, Asterisk and other vendors.  For additional information regarding compatibility and interoperability testing, please contact us.
VoIP Software Modules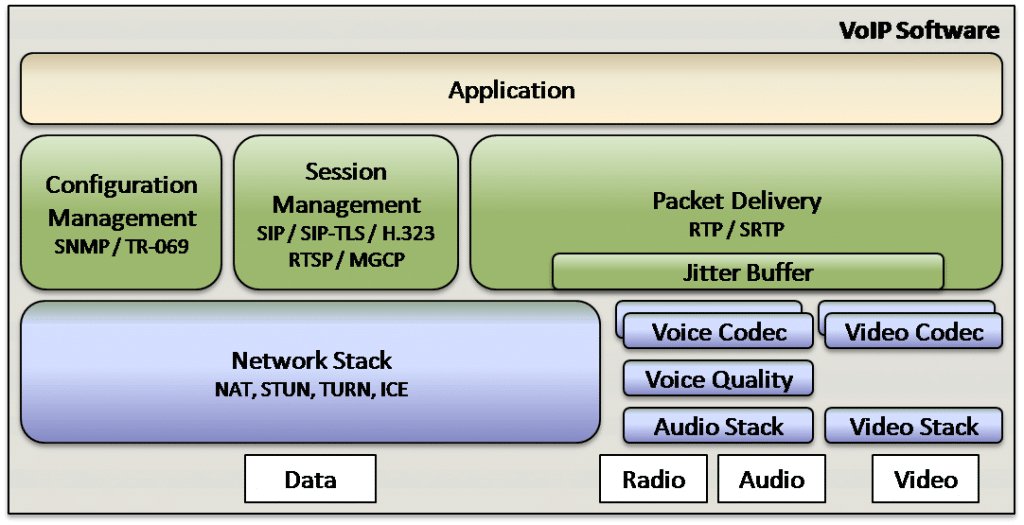 VOCAL's VoIP Software modules provide secure, real-time unified communications for voice, video, radio and data over the Internet or any other IP network. This includes a wide range of VoIP codecs and Quality of Service (QoS) support, where efficient utilization and prioritization of existing bandwidth can ensure exceptional voice quality and maximal data transmission. Our VoIP software may be licensed as a library with custom VoIP solutions available to meet specific developer requirements. Additional information regarding all aspects of our VoIP software is available.
Design Applications
Platforms

VOCAL's optimized software is available for the following platforms. Please contact us for specific VoIP supported platforms.

Processors
Operating Systems

Texas Instruments – C6xx (TMS320C62x, TMS320C64x, TMS320C645x, TMS320C66x, TMS320C67x), DaVinci, OMAP, C5xx (TMS320C54x, TMS320C55x)
Analog Devices – Blackfin, ADSP-21xx, TigerSHARC, SHARC
PowerPC, PowerQUICC
MIPS – MIPS32, MIPS64, MIPS4Kc
ARM – ARM7, ARM9, ARM9E, ARM10E, ARM11, StrongARM, ARM Cortex-A8/A9, Cortex-M3/M4
Intel / AMD – x86, x64 (both 32 and 64 bit modes)

Linux, uClinux, BSD, Unix
Microsoft Windows ACM / RTC / CE / Mobile
Apple iOS / iPhone / iPad & MacOS
eCOS / eCOSPro
Google Android
Green Hills Integrity
Micrium μCOS
Symbian
Wind River VxWorks
VOCAL LANsEND