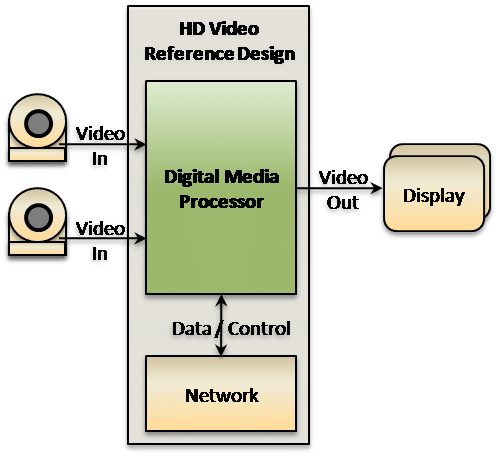 VOCAL's HD Video reference design supports rapid development of point to point and multipoint high definition video conferencing and communications solutions with wideband audio and H.264 and MPEG-4 video capture and streaming.

Our HD Video design leverages the Texas Instruments DaVinci DM81xx (DM8168 and DM8148) family of digital media processors. It provides low-cost, integrated, multi-channel video over IP solutions with up to 3 – HD 1080p high definition or 12 – SD channels.
The HD video reference design enables developers to access and utilize any of the DaVinci DM81xx physical device interfaces to customize their products. The hardware interface board layout can be configured to access DM8168 and DM8148 DVI, HDMI and VGA interfaces. Contact us to discuss your HD video application requirements.
Multi-Channel HD Video Conferencing
VOCAL's HD Video reference design can be used to create complete multi-channel high definition video conferencing solutions using the DM8168 (or DM8148) including endpoints and server with H.264 and MPEG-4 video streaming. The DM8168 EVM based reference design supports simultaneous H.264 channels with HD audio, video capture and full streaming of video over IP up to 1080p high definition. The DM8148 EVM based design supports only a single HD channel at 1080p high definition with multiple SD channels and full wideband audio.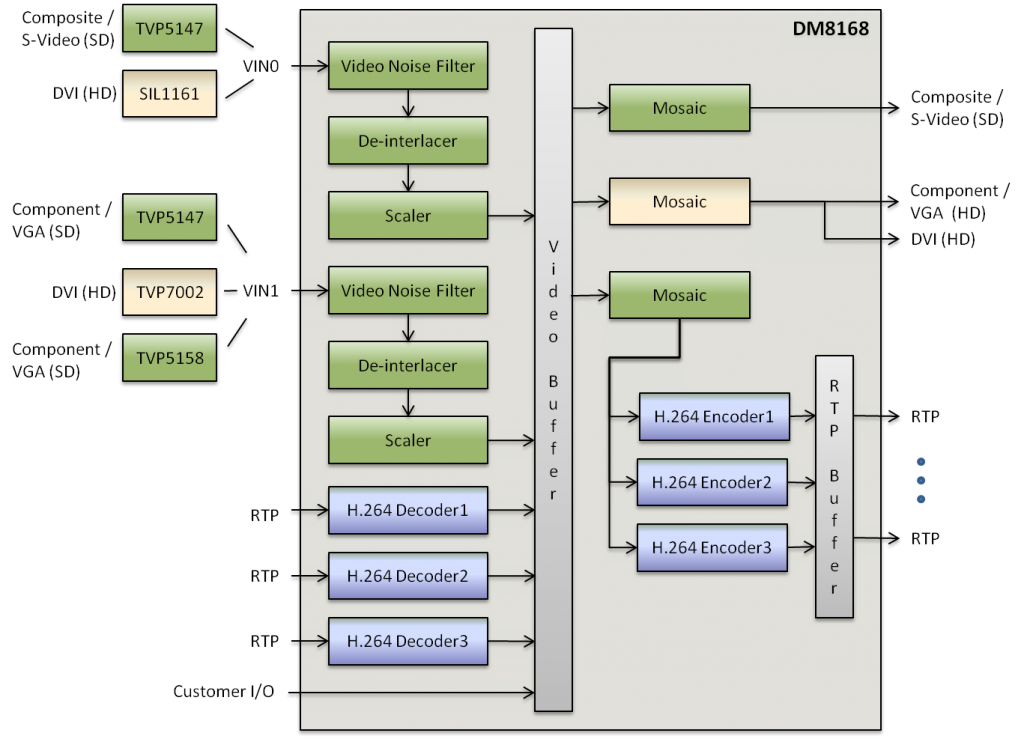 VOCAL's HD video design for TI DaVinci DM8168 accepts S-Video/composite and VGA/component video inputs and outputs multiple simultaneous SD and HD streams
When combined with the VOCAL Video Framework software, developers can create a superior user experience for multichannel DM8168 and DM8148 high definition video conferencing applications with full WB audio and H.264 and MPEG-4 video compression and noise reduction. Our Voice and Video over IP software library also provides a complete range of wideband and ultra-wideband audio codecs with beamforming, echo cancellation, dereverberation, and noise reduction algorithms for exceptional audio quality as well as SIP and other VoIP video conferencing protocols for smooth capture and playout. Our speaker diarization software can be combined with acoustic beamforming for efficient and robust source tracking during video conferencing.
Features
Turnkey high definition DM81xx video conferencing solution
DM8168 version supports up to 3 – HD 1080p or 12 – SD channels
DM8148 version supports 1 – HD 1080p or 2 – SD channels
Configurable physical device interfaces including DVI, HDMI, and VGA
Supports S-Video, VGA and DVI  video
Encode/decode video data streams
H.264 and MPEG-4 video compression
H.264 resolutions from QCIF to 1080p60
Multichannel HD-to-HD or HD-to-SD transcoding with multi-coding
Video noise reduction, de-interlacing and scaling
Interoperability with third party standards based HD video conferencing systems
Audio codecs including G.711, G.722, G.729 and Opus available
Audio echo cancellation and noise reduction available
Speaker diarization, tracking with beamforming available
Custom design solutions available
Applications
HD point to point and multipoint video conferencing
Multimedia conferencing
Multi-point Control Unit (MCU)
Surveillance and monitoring
HD video streaming
DVR
HD Video Reference Design Kit
VOCAL's HD Video Reference Design Kit consists of a customizable, fully functional high definition DM8168 or DM8148 video conferencing hardware and software solution including:
Schematics
BOM
Complete custom firmware
Technical engineering assistance with layout design and hardware bringup
Lifetime product maintenance and support
More Information