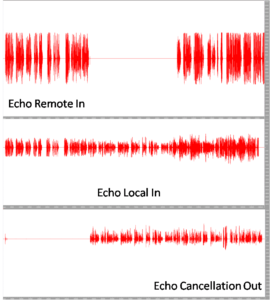 Echo Cancellation is used to enhance speech for Radio, Mobile, VoIP and Voice applications.  Whether the echo is electrical, acoustical, or has multiple sources, VOCAL has developed the solution for it.  Full-duplex voice communication systems require an echo cancellation solution for clear and effective conversations.  Echo cancellation software must have fast convergence speeds, resilient double-talk performance, and robustness to background noise.  VOCAL's solutions offer this and much more.
Stereo and Multichannel Acoustic Echo Cancellers
ITU G.168, G.167 and G.165 compliant
Optimized for DSPs, ARM and other microprocessors
VOCAL's echo cancellation software operates every day in millions of installations world-wide, including public telephone systems as well as intercoms, speakerphones and VoIP products. Contact us to discuss your application requirements with our engineering staff.
Vocal's Echo Cancellation Software
VOCAL's Echo Cancellation software modules are available standalone, as a library, and with our Voice Quality Enhancement System. Source code is optimized for DSP, ARM and other processors from TI, ADI, Intel and other leading vendors.
Echo Cancellation Features
Optimized for ANSI C and leading DSP architectures
ITU compliant and Passes rigorous proprietary tests
Rapid convergence
Fast re-convergence for echo path changes
Advanced double talk detection with low divergence during double talk
Non-linear Processing (NLP)
Built-in Noise Reduction
Long configurable echo tail length (up to 512ms)
Configurable narrowband(8kHz), wideband(16kHz), super-wideband(32kHz), fullband(44.1kHz,48kHz), and high-resolution fullband(96kHz) sampling rates
Automatic echo delay estimation
Anti-howling control
Easily integrated with other Voice Quality Enhancement modules
Stereo and Multiple Mic Modes available
Supports user callable functions
Portable, re-entrant and re-locatable code
Echo Cancellation Applications
IP Intercoms, such as Doorbells, Security Gates, Nurse Call stations, etc.
Smart Speakers (and other Voice Control devices)
Platforms

VOCAL's software library is available for the following platforms. Please contact us for specific Echo Cancellation supported platforms.
Processors
Operating Systems

Texas Instruments – C6xx (TMS320C62x, TMS320C64x, TMS320C645x, TMS320C66x, TMS320C67x), DaVinci, OMAP, C5xx (TMS320C54x, TMS320C55x)
Analog Devices – Blackfin, ADSP-21xx, TigerSHARC, SHARC
PowerPC, PowerQUICC
MIPS – MIPS32, MIPS64, MIPS4Kc
ARM – ARM7, ARM9, ARM9E, ARM10E, ARM11, StrongARM, ARM Cortex-A8/A9, Cortex-M3/M4
Intel / AMD – x86, x64 (both 32 and 64 bit modes)

Linux, uClinux, BSD, Unix
Microsoft Windows ACM / RTC / CE / Mobile
Apple iOS / iPhone / iPad & MacOS
eCOS / eCOSPro
Google Android
Green Hills Integrity
Micrium μCOS
Symbian
Wind River VxWorks
VOCAL LANsEND