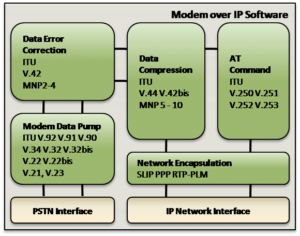 Modem over IP (MoIP or V.MoIP) provides a solution to connect analog modems to digital networks. Modem over IP enables legacy dial up modems to communicate over mobile, radio, satellite (Iridium, etc) and other IP networks. Contact us for additional information to discuss your Modem over IP and MoIP application needs.

Access legacy dial-up modems over IP networks and VoIP networks
Migrate to the cloud while maintaining legacy systems
Eliminate phone lines and expenses
Supports ITU V.150.1
What is Modem over IP?
Modem over IP (MoIP) refers to any method that utilizes an IP network to connect voice-band dial-up data modems. The two most common MoIP technologies are Voice Band Data (VBD) and Modem Relay (MR). VBD involves digitally encoding the modem audio data in a linear codec such as G.711 and transporting it over a VoIP connection using RTP. VBD solutions should be well tuned to deal with modem audio traffic. Typical VoIP behaviors such as echo cancellation and aggressive jitter buffering can result in a high failure rate for high speed modem calls. MR moves the demodulation process as close to the data modem endpoints as possible and removes the need to transport the modem audio data across the VoIP network. MR instead demodulates the data from the modem connection and directly transports it over IP networks using protocols such as SPRT and RASoIP. VOCAL offers many different technologies and solutions that support MoIP including V.150.1 Gateway, SIP Analog Modem Server (SAMS), and Analog Modem Adapter (AMA).
Modem over IP Transport Methods
ITU V.150.1 identifies different modes for transmitting modem over IP networks.
Modem Relay – the audio signal from the local modem is demodulated at the near end Analog Modem Adapter (AMA) and transmitted over the network and re-modulated at the far end AMA for transmission to the local modem. The AMA devices maintain state for the call session. Modem relay mode may be used for more reliable communications over networks where transmission delays and packet loss may degrade modem communications.
Voiceband (VBD) – audio is encoded by a speech codec such as G.711 and transmitted as data packets over the network. VBD mode may be used over reliable networks with predictable throughput and negligible packet loss.
VOCAL supports V.150.1 and related specifications in it's V.150 gateway package.
VOCAL's SIP Software Modem technology provides dial up networking services by combining a soft-modem and VoIP channel module to implement an analog modem using SIP and RTP. This is a combination of SIP, VBD Mode, and a Soft Modem.  The VOCAL SIP Analog Modem Server (SAMS) is an implementation of this, that can run in a data center or cloud based environment (such as AWS or Azure), and replace modem banks, Remote Access Servers (RAS) and E1/T1/ISDN lines with pure software.
Remote Access Server over IP is an alternate method where information encoded in the local modem audio signal is demodulated and decoded at the AMA and transmitted as data over the network using protocols such as TCP/TLS, Telnet or Text over IP.  The Vocal AMA uses this method to pass modem data over an IP link that is not well suited for VBD mode.  This technology moves the RAS to the remote location, on the far end of the IP link, eliminating the impairments caused by traversing IP with voice band data. The AMA can be combined with a SAMS server using VOCAL MoIP server modules to solve almost any modem over IP problem.
Analog Modem Adapter (AMA)
An Analog Modem Adapter, similar to an Analog Telephone Adapter (ATA) with an embedded modem, enables legacy analog modems to communicate over digital networks using IP protocols. AMAs support telephony features such as device power, dial tone, ringing and telephone signaling to interact with the local modem. AMAs are designed to replace the analog telephone connections at remote sites with an IP enabled solution.
SIP Analog Modem Server (SAMS)
VOCAL's SIP Analog Modem Server (SAMS) is an integration of our MoIP technology and Voice over IP Modems (VoIP) software stack. SAMS is a software based standalone modem server designed to deliver data modulations over a standard VBD mode VoIP connection. SAMS is used to replace hardware modem servers with a cloud ready software platform, remove expensive E1/T1/ISDN/Analog telecom lines, and replace out of data and end of life modem equipment. This solution is used extensively across industries using modem communications for Point of Sale, Alarm Monitoring, Industrial Control, Utility Metering, Environmental Monitoring, Out of Band Access and more.
Using Azure or AWS to host a virtual modem
VOCAL's robust SAMS software allows for easy integration with any cloud computing platform, such as Microsoft Azure, Amazon Web Services (AWS), or even a private cloud network. These cloud computing services are essential to todays business, and being able to move modem banks or remote access servers into these cloud services allows these technologies to gain the same benefits as the rest of an organizations IT and business logic. Partnering VOCAL's SAMS software stack with a cloud service provider allows for seamless and hassle free transition from physical modems to a VoIP solution.
V.150 Gateway
VOCAL's V.150 Gateway is a fully software-based gateway solution for connecting voice band data traffic to a V.150 modem relay endpoint, or another V.150 gateway. The V.150 gateway supports standard ITU-T and Bell modulations including V.34, V.32, V.32bis, V.22bis, V.22, Bell 212, V.23, V.21, Bell 103, V.90, V.91 and V.92. The V.150 Gateway can facilitate back-to-back Voice over IP calls carrying modem traffic or it can terminate physical connections such as FXS, FXO, T1, E1, or analog. VOCAL's V.150 Gateway software is ideal for integrating V.150 capability into existing gateway products, enabling communications for secure STE and STU phones, as well as carrying reliable modem traffic over VoIP network backbones.
MoIP Software
VOCAL's MoIP software is part of a fully integrated and highly configurable VoIP software solution with a Network Stack, SIP Stack, secure communications, full-featured Telephony software, and a comprehensive data modulation and data modem software library. Supported data modulations include V.34, V.32, V.32bis, V.22bis, V.22, Bell 212, V.23, V.21, Bell 103, V.90, V.91 and V.92 modem standards as well as standard fax modulations. Our software also supports higher data protocol layers including V.42 (including MNP2-4), V.42bis, V.44 and MNP-5.
VOCAL's MoIP software library is modular and optimized for DSPs and conventional processors from TI, ADI and other leading vendors. Our MoIP software is available for licensing as a library or a complete AMA design with custom solutions available.
More Information