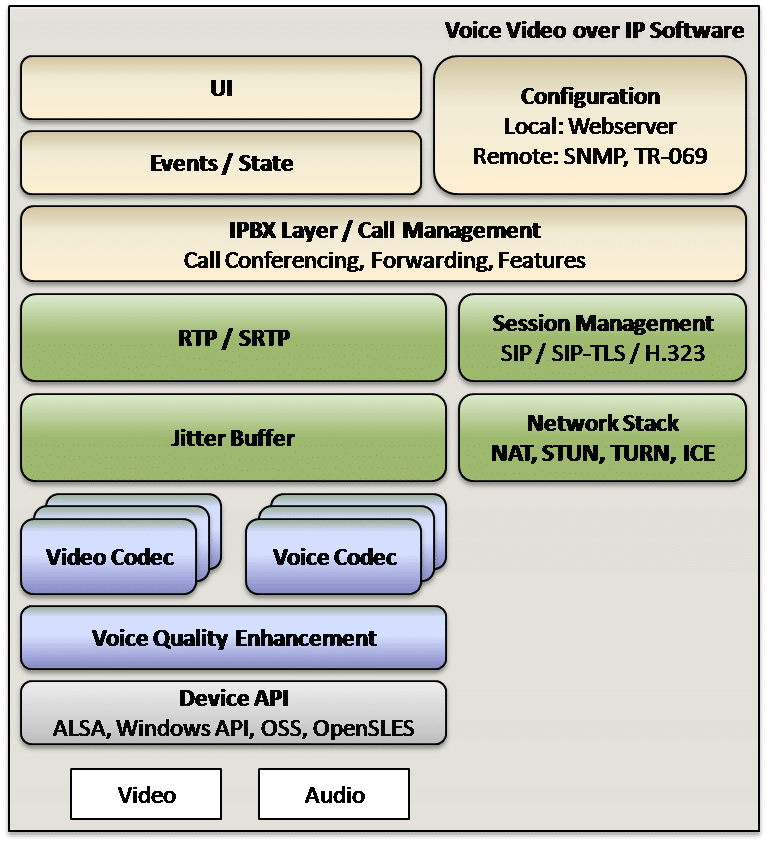 VOCAL's Video PBX Reference Design enables licensees to create video products with a rich, flexible feature set, world-wide configurability, multilingual support, and simple upgrade/expansion paths. Our Video PBX provides cost-effective video telephony and high quality video conferencing for home or small/medium sized businesses.

Features include sending/playing streaming video, web browsing, email, instant messaging, media player (including mp3, videos, etc.), and digital recording. Contact us to discuss your video PBX application requirements.
Applications
Videophone
Enterprise communications with videoconferencing
IPTV
Streaming video and audio players
Information Appliances
Home media gateway
Telemedicine
TTY / TDD
Distance Learning
Surveillance
Features
A complete listing of all the features is available. Major features of the Video PBX Reference Design include:
Full color and motion video (H.264 and MPEG-4)
Interlaced streaming video player (30 fps)
Video conferencing
Flexible device profiles
SIP and/or MGCP support with multiple VoIP providers
Encrypted communication using secure RTP (SRTP) with SDES or proprietary key negotiation
Network stack with NAT/firewall support
High performance G.168 echo canceller
An extensive set of telephony features
Call progress tones with world-wide configurability
Ringing patterns with multiple ringing tones, message waiting (tone/ring/visual), etc
Quality of service configurability
Flexible configuration and provisioning options
Multilingual Web configuration via built-in Web server and hierarchical user levels
Mass production support for flashing code image, firmware configuration, and testing
Remote administration and firmware update
Power-off/911 service failover
Video PBX Software
VOCAL's V2oIP software and highly optimized On-One™ DSP technology can significantly reduce materials cost. By running all DSP functions and application protocols under its own simple network operating system, all high density processing can be performed on a single processor.
With over 30 years of custom design and development in the telecommunications industry, VOCAL's expertise and extensive customization support will result in the product you want at an unbeatable cost. Since VOCAL provides both the hardware design and a complete, optimized software solution, the result is a fully integrated and robust product which can be brought to market quickly.
Reference Design Kit
VOCAL's Video PBX Reference Design Kit consists of a customizable, fully-functional hardware and software solution with:
Schematics
BOM
Complete custom firmware
Technical engineering assistance with layout design and hardware bring-up
Lifetime product maintenance and support
Specifications
In general, the specifications of the Video PBX Reference Design include:
4.3″ 480(H) x 272(V) Widescreen Display with Touchscreen Control
HVGA and QVGA interface
VGA and WVGA Camera.
256MB SDRAM, 64MB Flash
WIFI 802.11b/g
Bluetooth 2.0
USB 2.0
AM/FM RDS Receiver and Digital Audio
Speaker, Headphone, and Line Out Audio
35 button keypad, 17 LEDs capability
More  Information