SIP Analog Modem Server (SAMS)
Modems in the cloud are now a reality.  The VOCAL SAMS is a solution for inter-operating with legacy modems without the need for modem banks or Remote Access Servers (RAS) with E1/T1 connections. VOCAL's SAMS provides an analog data modem replacement that is designed to run over modern Voice over IP networks and operate within cloud environments (such as AWS, Azure, or private corporate clouds).
Can modems be used over IP?
The ever more rapid advancement and adaptation of new technologies has left a gap in legacy communications systems. E1/T1 lines are increasingly being replaced by Ethernet based VoIP systems and telecom carriers will soon (August 2nd 2022) be free of the burden of maintaining and repairing their copper POTS infrastructure (FCC Forbearance Order 19-72A1). Companies are often left with modem-based technology that can no longer work within the new infrastructure, but remain necessary for daily business.  Even when traditional ISDN and POTS lines remain available (often at a premium) Remote Access Server (RAS) equipment like the AS5350 has reached End of Support from Original Equipment Manufacturers and these vital business systems are left in a state where failure is imminent and quick repair or replacement are no longer options.  This can happen with servers interacting with point-of-sale devices, meters, alarm systems / security panels and numerous industrial controllers. Countless M2M applications rely on data modems to accomplish their task.  VOCAL has a number of solutions to allow these applications to adapt to the changing infrastructure.
VOCAL's SAMS incorporates many proprietary techniques to bolster reliable modem connections over packet switched VoIP networks. These improvements are only possible by building on decades of experience in designing and engineering solutions in both the Data Modem and Voice Over IP industries. SAMS software modem server approach proves to be a one-of-a-kind solution extending the operational lifetime of critical M2M and field data devices. As companies are managing their transition to IoT centric solutions, SAMS provides a seamless and immediate flexibility to bridge the technology gap with traditional dial-up modem deployments.
Can a VoIP modem be used in the cloud?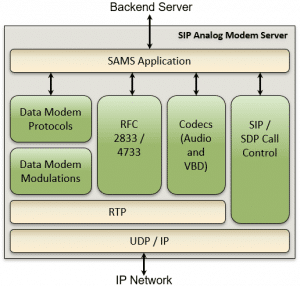 The VOCAL SIP Analog Modem Server, or SAMS is the centerpiece of these solutions. This Virtual Modem Server allows a business to deploy a server in the cloud, which can work with the modern VoIP phone network infrastructure based on SIP and RTP, instead of necessitating T1/E1 lines to connect to the PSTN. The wide array of cloud service providers such as Microsoft's Azure and AWS allows VOCAL to further tailor your SAMS service to your needs.
The Virtual Modem server contains true soft-modems, not just an AT command set on a TCP socket pretending to be a modem. This allows the server to connect to true voice band modems deployed on the PSTN, and thus does not require installation of additional equipment on the far end of the system. SAMS provides a true Modem over IP (MoIP) solution. VOCAL has server configurations supporting a broad range of modems. And because VOCAL has supplied the modem code for the RAS servers of the analog telephony world, you know that the modems are industrial grade.
VOCAL servers come in a variety of configurations which cover the full range of ITU V-series modems as well as many other industry standard modulations.  The server is controlled by industry standard AT commands via standard tty nodes and com ports in the server filesystem – just as if it were a box-modem on a serial connection.  This allows it to easily fit into currently existing systems. Many other configurations and methods of control are available in order to flexibly meet the needs of already deployed infrastructure and applications. In addition, VOCAL can customize or build to suit, in order to meet very specific system requirements. VOCAL does not charge monthly fees for it's servers.
VOCAL's SAMS software is a great replacement for end-of-life modem products including Cisco's Access Servers (2500 series, AS5350),
Cisco PVDM Digital Modem Modules (PVDM2-12DM, PVDM2-24DM, PVDM2-36DM), modem server banks, Remote Access Servers (RAS) and groups of individual hardware modems.
Use Cases
Utility Meters

Fuel – Water – Energy – Hydro
Itron MV-90 xi
PrimeRead
Autosol
Honeywell CONNEXO
MasterLink

Alarm/Security Panels

SIA DC-03: SIA Format (SIA FSK)
SIA DC-04: SIA 2000
SIA DC-05: Ademco Contact ID
Sonitrol

Fuel Monitoring
Building Infrastructure

 HVAC
Energy Management
Refrigeration
Industrial Controls
Building Automation

Point of Sale (POS)

Veriphone
Visa I/II
SDLC/HDLC
ISO 8583
V.22 Fast Connect

ATM Backend
Out-of-Band Management

Managed Network Infrastructure
Dial-in Remote Access
Modem Based Fallback Routing

SCADA backend
Field Medical Devices
PPP/Dial-Up
STE/STU secure phone terminals

vIPer Phones
Secure Data Terminals

Paging

Telelocator Alphanumeric Protocol (TAP)

Features
100% software solution easily deploys to the cloud
Emulate and fully replace a physical modem
Runs on any standard Linux or Windows distribution
Replaces RAS equipment configurations when analog lines are being replaced with VoIP (SIP/RTP) lines
Scalable – enables a large number of modems on a single server (10s to 100s depending on server and modem rates)
Fully IP and Software based solution replaces hardware modem servers
Exports tty (com port) interface for each modem
Each tty accepts industry standard AT commands – V.250
Registers with one or more SIP servers (can be phone number per line, modem pool hunt, or other combinations)
SRTP and Secure SIP options available
Dialing commands will make outgoing SIP/G.711 call (with true modulation data in the stream)
Incoming SIP calls will report RING to applications listening on ttys
Compatible with ppp and pppd etc.
Requires no analog audio interface
Slaves to far end modem clock to eliminate skew
High speed data modulation – V.34, V.90, V.92 (optional)
Low speed data modulation – V.32, V.32bis, V.22, V.22bis, V.23, V.21
Bell modulation – Bell 212, Bell 103
Supports standard protocols such as V.42 / LAPM, MNP 2-4
Supports standard compression protocols such as V.42bis and MNP5
End of Support RAS / AS5350 / PVDM2 Digital Modem Module replacement
Compatible with GSM Circuit Switched Data (CSD) applications
Additional Options
VOCAL offers additions to the SAMS package that provide features and functionality that may be applicable to specific environments including:
Modem as a Service (MaaS) – Ideal for environments where the user is hosting the virtual modem as a service for customers. MaaS provides advanced line provisioning, phone number and modem line allocation, and SSL encryption.
TCP Originate – Used in environments where the modem is being used as a transport medium to connect to a back-end server for further processing. This option is particularly useful with services like transaction/point of sale processing
V.253 Voice Command Set (VCS) – Add voice capabilities to traditional modem deployments. VCS introduces to the ability to transmit and receive PCM voice streams over the modem DTE connection. It also includes tone and DTMF generation and detection support. VCS is ideal for applications featuring mixed voice and data requirements including Public Announcement Systems, Elevator Monitoring and Emergency Call Handling, and Alarm Systems with Loudspeaker Announcement Playout.
SAMS-F Fax Endpoint – Extend SAMS data modem capabilities with support for Fax Class 1 and Fax Class 2 endpoints. SAMS-F supports both T.30 and T.38 endpoint connectivity to terminate facsimile communications. SAMS-F's command set interface is compatible with popular faxing software including Windows Fax and Scan and Hylafax
Customization
The fully software-based architecture utilized by SAMS combined with decades of experience with data modems and
telecommunications means that VOCAL can customize interfaces and functionality as required by specialized applications, such as alarm panels.
More Information