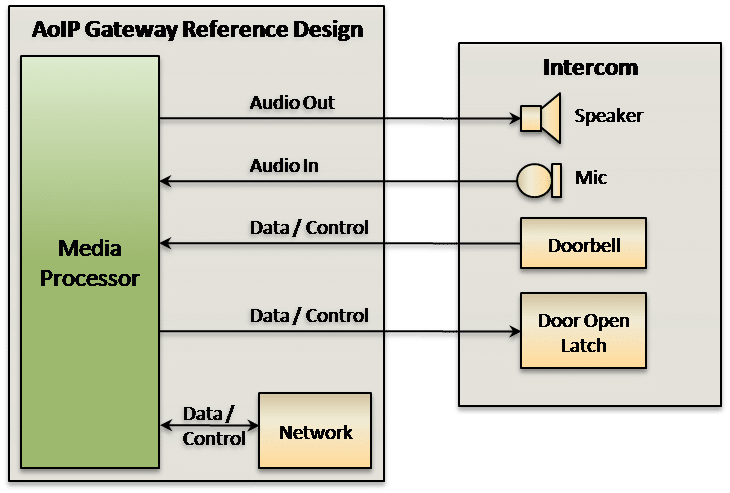 VOCAL's AoIP/RoIP Gateway Reference Design interfaces analog audio connections for intercom(AoIP) and radio systems with IP networks using VoIP protocols (RoIP).
Standards-based design
Extensive features list
World-wide configurability
Multilingual support
Customizable control interfaces
Simple upgrade/expansion paths
VOCAL's AoIP Gateway reference design is available for licensing as a turn-key product or as software and hardware engineering designs for your application development.  Our Reference Designs far surpass the competition in terms of cost advantage and time-to-market potential, achieving scalable channel density while supporting rapid integration of new features and modules. Customized interfaces for radio operational controls are also available.  Contact us for a demo or to discuss your specific application and performance requirements.
We have over 25 years of custom design and development experience in the telecommunications industry; our expertise and extensive customization support will result in the product you want at an unbeatable cost.  Since VOCAL provides both the hardware design and a complete, optimized software solution, the result is a fully integrated, robust product which can be brought to market quickly.
Analog Audio Over IP – AoIP Gateway
VOCAL's AoIP Gateway converts between legacy bi-directional or broadcast audio applications and IP networks using a VoIP connection and SIP or RTSP.  Primary design uses include RoIP, Intercom over IP, and IP gateways to legacy analog audio systems. Our AoIP Gateway converts voice media between any analog device (two-way intercom, public address and radio systems) and a VoIP connection. The AoIP Gateway could be used at both ends of a link for conversion to IP transport media.  Alternatively, the AoIP Gateway could be used to bridge what use to be dissimilar worlds.  As an example, a PTT radio network could appear as a SIP end-point registered as an extension to your Cisco or Asterisk switch.
AoIP Features
Complete listings of all the features and technical specifications are available.  Highlights of our AoIP Gateway Reference Design include:
WAN support (Ethernet, cable modem or DSL) and WLAN support
Multi-channel audio support for independent devices
SIP and/or RTSP support with multiple VoIP providers
Encrypted communication using secure RTP (SRTP) with SDES or proprietary key negotiation
Network stack with NAT/firewall support
Voice codecs such as G.711, G723.1, G.726, G.729AB, MELP, and iLBC vocoders
Support for Eurocae ED-137 available
High performance noise preprocessor
Battlefield VOX (voice operated transmission)
An extensive set of telephony features
Call progress tones with world-wide configurability
Quality of service configurability
Flexible configuration and provisioning options
Multilingual Web configuration via built-in Web server and hierarchical user levels
Mass production support for flashing code image, firmware configuration, and testing
Remote administration and firmware update
Use Cases
Radio Dispatch Systems
ED-137 GRS
UAV communications
Intercom systems
Security systems
Industrial Radio
Reference Design Kit
VOCAL's AoIP Gateway Reference Design Kit provides developers a customizable, fully-functional hardware and software solution with:
Schematics
BOM
Complete custom firmware
Technical engineering assistance with layout design and hardware bringup
Lifetime product maintenance and support
Interoperability
The compliance of our telephony software to industry standards has been consistently demonstrated over the course of many years of software and hardware development and testing.  Over 10 million ports of VOCAL products have been shipped by our customers using VOCAL's voice processing, data and facsimile modulations, data protocols, facsimile command sets, and network protocol stacks.  Many high-density server systems have been developed using VOCAL software, each meeting extensive interoperability standards.
Our VoIP software suite works seamlessly with popular industrial servers such as those available from Cisco, Quintum, NetCentrex, and Asterisk.  VOCAL has conducted exhaustive compatibility and interoperability testing using many VoIP providers.  VOCAL's RoIP software can work in multiple configurations, including both VoIP standard and Eurocae ED-137 mode. Device configuration can be completely managed using the web interface built into the firmware or restricted as desired by the licensee.  For further information regarding compatibility and interoperability testing, please contact us.
AoIP Gateway Features
VoIP Protocols
SIPv2SDPRTP
RTCP
Eurocae ED-137

Security Protocols
SRTP
SDES
SSLv3/TLSv1
HTTPS
IPsec

Signaling Support
DTMF/Tonal Pass Through
UART Serial Data
Digital or Analog Input
Digital Control Output

Network Protocols
IPv4TCPUDP
ICMP
RARP
ARP
DNS
DHCP Client
NTP
SNTP
STUN
HTTP
FTP/TFTP
QoS 
NAT/Firewall Support
Built-in Router
NAT Traversal
NAT Firewall
Port Forwarding
LAN Pass Through
PPPoE

Encryption
AES
DES
3-DES
CCMP
RC4
SHA-1
RSA