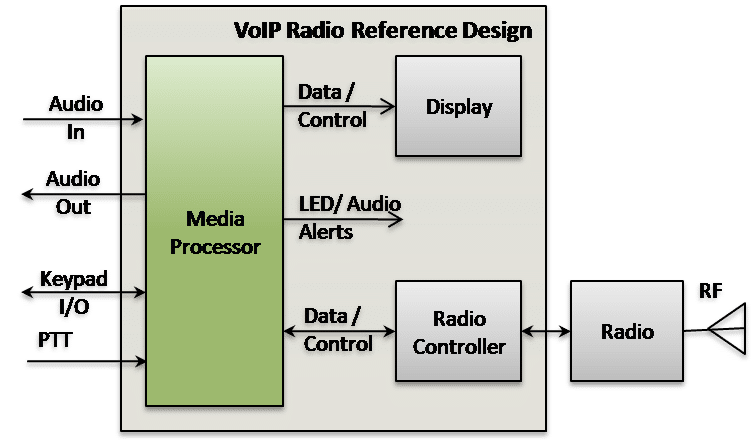 VoIP Radio provides a complete digital communications solution for industrial, safety, medical, scientific, and mobile radio over IP applications using VoIP protocols. Our multi-channel design enables cost effective low power VoIP radio communications for use in hazardous environments.

The portable ARM based design is available for processors from TI, ADI and other leading vendors. VOCAL VoIP radio software may be licensed as a library or part of our complete reference design. Custom solutions are also available. Contact us to discuss your VoIP radio application.
VoIP Radio Features
Turn key VoIP radio hardware and software solution
Supports full duplex and half duplex modes of operation
Enhanced scan mode with prioritized monitoring of all or selected channels
Mixing of multiple VoIP data streams for audio output
Supports ZigBee and 802.11s mesh radio standards
MELPe, G.711, G.729AB and other standard voice codecs available
Robust echo canceller and noise reduction software available
VoIP stack with adaptive jitter control
SRTP for secure communications available
Custom design solutions available
Applications
Industrial, Commercial, Medical and Mobile
Home Land Security
Public Safety / First Responders
Hazardous environments
VoIP Radio Communications
VoIP Radio is a method of communications that enables digital two-way radios to interconnect using Voice over IP protocols over radio, satellite (Iridium, etc) and other networks. A VoIP enabled radio converts voiceband audio to digital data suitable for transport over an IP network. VoIP radio enables point-to-point and multi-point voice and data communications over existing RF channels. This technology offers numerous advantages to both existing radio networks as well as new communications systems under development.
Increase the number of channels on an existing network. VoIP enabled radios support multiple data streams for both voice and data communications over a physical RF link.
Use VoIP services. VoIP enabled radios can connect with the Internet and access service providers to communicate directly with mobile devices or landline telephones.
Interoperability with other networks. VoIP enabled radios can communicate with each other directly over the Internet and to other radios via an VoIP gateway.
VoIP Radio Software
VOCAL VoIP radio software provides application developers a highly configurable multi-channel framework with VoIP stack, jitter control, RTP, along with other networking protocols. In addition, our full-featured Voice Quality Enhancement software provides a wide range of voice compression algorithms including MELPe, G.711, G.722, Speex, etc. as well as robust echo cancellation and noise reduction algorithms. When combined with SRTP, SDES, IPsec and encryption, VOCAL radio software provides a comprehensive digital radio solution that can ensure secure communications with superior voice quality in the most challenging of environments.
VoIP Radio Reference Design
VOCAL VoIP radio reference design is compatible with various mesh radio standards including Zigbee and 802.11s. It supports both full-duplex and half-duplex digital radio communications. Our 2-way digital radio design enables rapid development of RF applications with support for point-to-point and multi-point communications using Voice over IP. An enhanced software scan mode provides prioritized monitoring of selected VoIP channels and mixing of multiple data streams with combined audio output. Our RDK provides a customizable, fully-functional hardware and software solution including:
Schematics
BOM
Complete custom firmware
Technical engineering assistance with layout design and hardware bringup
Lifetime product maintenance and support