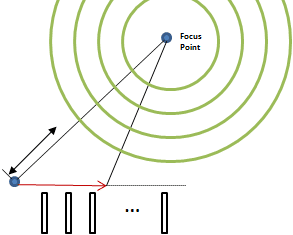 What Is Acoustic Beamforming?
Acoustic Beamforming is a signal processing algorithm, which enhances a signal of interest while suppressing interfering and background noise sources.  Audio beamforming can be applied to near-field and far-field hands-free communications systems.
An acoustic beamformer provides the option to capture the individual speech from each talker and generate separate voice streams, i.e. it enhances the signal flow from the talk of interest to specific individuals while allowing background noise (other talk, motors, movement, etc.) to take place.  Microphone array acoustic beamforming can serve as a front-end to voice quality enhancement algorithms and/or as a pre-processor to speech recognition engines.

VOCAL's acoustic beamforming software libraries supports uniform linear, uniform circular, and uniform square microphone array orientations. Custom microphone array configurations can be supported upon request.  The number of microphone that can be supported by the acoustic beamformer for real-time applications ranges from 2 to 16 microphones. VOCAL's beamforming algorithms are available with standard APIs on a variety of platforms.  Our native software libraries produce highly efficient code and can be bound to a large number of programming languages.  Contact us to discuss your acoustic beamforming application requirements.
Standard Features
Scalable number of microphones
Scalable sampling rate
Scalable frame size
Supports both near field and far field
Supports uniform and custom arrays
Fixed-angle or dynamic steering
Multi-channel operation
Fully adaptive system adapts to changing acoustic environment
Native instructions for high efficiency
Wide range of platforms support
Optional Features
Acoustic Beamforming Applications
Ceiling Mounted Conference Systems
Smart Speakers and Soundbars
Wearable Devices
Audio surveillance
VoIP / Telephony-based Intercoms
Human / machine interfaces (robotics)
Speech based command and control
Voice annotation