SAMS – Modem as a Service (SAMS-MAAS)
While last mile telecom providers continue to accelerate their phase out of analog and TDM digital connections in favor of Voice over IP based solutions, users who rely on small scale legacy modem applications are being left behind. VOCAL has been a leading provider of solutions for enabling the continued use of legacy data modem applications and as such we have created the Modem as a Service (MaaS) addition to our proven SIP Analog Modem Server (SAMS) product to address this ongoing issue.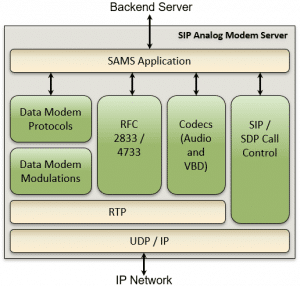 MaaS is targeted towards Telecom and Cloud service providers. By moving the modulation/demodulation into a controlled environment the issues that have prevented end-users from transitioning to VoIP platforms – namely packet loss, latency, and network jitter – can be virtually eliminated. With MaaS, the modem call is terminated within the service providers' platform with the "serial" connection being delivered to the customer over a secure TLS connection. MaaS features a flexible certificate-based provisioning system which leverages existing technologies to provide secure per-customer channel allocations and revocations while blocking unauthorized usage.
There remains an untapped market of analog data modem users who are in search of a solution to allow them to keep their business critical systems running but do not have the resources to install and maintain high quality VoIP, Network, and Internet services which are required for delivering reliable modem communications over IP connections. MaaS is both a great value-added service for customers who are looking to transition to a VoIP platform but are hindered by their modem requirements, as well as a recurring revenue source with customers who are ready to ditch their expensive dedicated copper lines.
MaaS is an ideal solution for high volume users but it can be especially attractive when customers have low volume use cases where a premium is placed on availability while the access charges incurred by the provider are minimal.
Ideal target use-cases include:
Community gate management
Out of band network management
SCADA and metering applications
Environmental sensors
Building management and monitoring
Remote Paging systems
Medical device monitoring
MaaS Features
Demodulated data is protected by a secure TLS connection
Powerful provisioning system allowing for channel allocations, incoming call routing
Virtual COM port allows for minimal changes to customer systems
Use Cases
Utility Meters

Itron MV-90 xi
PrimeRead
Autosol

Alarm Panels

Ademco Contact ID
Sonitrol
SIA 2000

Fuel Monitoring
Building Infrastructure
Point of Sale (POS)

Veriphone
Visa
ISO 8583
V.22 Fast Connect

ATM backend
Out-of-Band Management / Managed Network Infrastructure
SCADA backend
Field Medical Devices
PPP/Dial-Up
STE/STU secure phone terminals
Paging
Telelocator Alphanumeric Protocol (TAP)

Features
100% software solution easily deploys to the cloud
Runs on any standard Linux  or Windows distribution
Replaces RAS equipment configurations when analog lines are being replaced with VoIP (SIP/RTP) lines
Scalable – enables a large number of modems on a single server (10s to 100s depending on server and modem rates)
Exports tty (com port) interface for each modem
Each tty accepts industry standard AT commands – V.250
Registers with one or more SIP servers (can be phone number per line, modem pool hunt, or other combinations)
SRTP and Secure SIP options available
Dialing commands will make outgoing SIP/G.711 call (with true modulation data in the stream)
Incoming SIP calls will report RING to applications listening on ttys
Compatible with ppp and pppd etc.
Requires no analog audio interface
Slaves to far end modem clock to eliminate skew
High speed data modulation – V.34, V.90, V.92 (optional)
Low speed data modulation – V.32, V.32bis, V.22, V.22bis, V.23, V.21
Bell modulation – Bell 212, Bell 103
Supports standard protocols such as V.42 / LAPM, MNP 2-4
Supports standard compression protocols such as V.42bis and MNP5
End of Support RAS / AS5350 / PVDM2 Digital Modem Module replacement
Additional Options
VOCAL offers additions to the SAMS package that provide features and functionality that may be applicable to specific environments including:
TCP Originate – Used in environments where the modem is being used as a transport medium to connect to a back end server for further processing. This option is particularly useful with services like transaction/point of sale processing.
Customization
The fully software based architecture utilized by SAMS combined with decades of experience with data modems and
telecommunications means that VOCAL can customize interfaces and functionality as required by specialized applications, such as alarm panels.
More Information