TSVCIS Interoperability Features
The purpose of developing the Tactical Secure Voice Cryptographic Interoperability Specification (TSVCIS) was to provide a framework that allows for interoperability between secure voice devices used by all branches of the Department of Defense. Legacy military cryptographic devices were hard-coded, limiting their adaptability and compatibility with other communication devices. Radio programs, such as ARC-210, and SINCGARS are implementing TSVCIS to modernize their solutions.
TSVCIS proposes a layered bitstream with over-the-air distribution (OTAD) key management. The layered features of the communication channel allow to narrowband and wideband waveforms modes to be convertible between each other. The foundation to narrowband and wideband waveforms for voice mode is STANAG 4591 MELPe 2400. The wideband waveform extends the narrowband waveform with additional FEC and/or speech data. The location of the narrowband and wideband bits is known, so adding or removing this data allows the waveforms to be interoperable without the need for decoding and re-encrypting the data.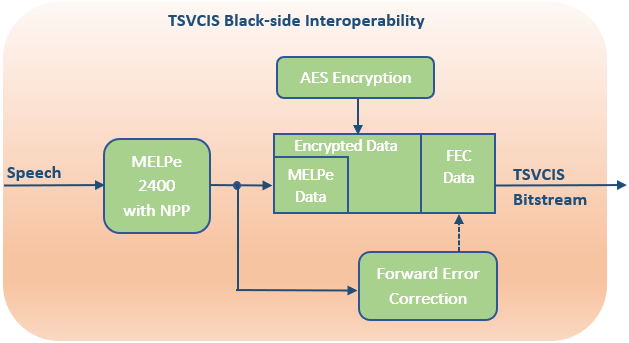 TSVCIS does not make an attempt to re-invent the wheel in regards to cryptography and synchronization. To meet the NSA's Cryptographic Modernization requirements, Suite A and CNSA Suite algorithms are used in the specification. In addition, synchronization strategies deployed closely follow the Secure Communications Interoperability Protocol (SCIP).
By following the common practices in cryptography, next generation tactical secure voice communication devices will be interoperable.
Platforms

VOCAL Technologies, Ltd. TSVCIS software includes BCH and Hamming FEC, along with MELPe and VDR vocoder software. Please contact us to learn more about our TSVCIS and RoIP software solutions.
Processors
Operating Systems

Texas Instruments – C6xx (TMS320C62x, TMS320C64x, TMS320C645x, TMS320C66x, TMS320C67x), DaVinci, OMAP, C5xx (TMS320C54x, TMS320C55x)
Analog Devices – Blackfin, ADSP-21xx, TigerSHARC, SHARC
PowerPC, PowerQUICC
MIPS – MIPS32, MIPS64, MIPS4Kc
ARM – ARM7, ARM9, ARM9E, ARM10E, ARM11, StrongARM, ARMCortex-A8/A9/A15/A3x/A5x/A7x, Cortex-M3/M4/M7/M33
Intel / AMD – x86, x64 (both 32 and 64 bit modes)

Linux, uClinux, BSD, Unix
Microsoft Windows ACM / RTC / CE / Mobile
Apple iOS / iPhone / iPad & MacOS
VOCAL LANsEND
Google Android
Green Hills Integrity
Micrium μCOS
Symbian
Wind River VxWorks
eCOS / eCOSPro