Fast, real-time payment processing has become a vital part of the modern economy. Providing near-instantaneous payment authorization is an essential requirement for a smooth experience at the Point-of-Sale. While many payment terminals have been transitioned to Wireless and TCP/IP systems, there remains a large installation base of Dial-In terminals that rely on a traditional Plain Old Telephone System (POTS) analog connection to facilitate their transaction processing. As the telecommunication infrastructure has transitioned to Voice over IP (VoIP) technologies, these Dial-In terminals have become less reliable as payment authorizations fail and must be retried multiple times. This has resulted in excessive transaction times, long lines, and frustrated customers. Replacing these analog terminals proves to be a difficult and expensive task as these terminals are often found in locations where analog POTS is the only practical connection and any IP transition would require onsite technicians and new hardware installations. This creates an uncomfortable situation for payment processing providers as they struggle to support Dial-In terminals while their telecom carriers are pressuring them to remove their POTS and E1/T1 lines. A huge issue facing payment processing companies is that traditional hardware modem servers have reached end of life and replacement parts are no longer available; creating a situation where cloud migration efforts are being delayed because these legacy servers cannot be virtualized.
With a myriad of challenges already facing credit card processing companies that include fraudulent transactions, cybersecurity threats, account suspensions, declined credit cards; there is now one more to add to the list – connectivity issues. A major obstacle that is hindering payment processing is the transition from analog to VoIP phone lines. The payment gateway is a valuable tool necessary in credit card processing for every online payment transaction. These gateways are designed to facilitate hundreds or thousands of transactions per day and need to be reliable and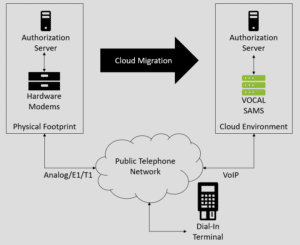 secure. Most new Point-of-Sale (POS) installations utilize broadband and LTE networks, however there is still a significant installation base which requires support for analog dial-in processing over public telephone networks that utilize analog data modems. Normal day-to-day issues can already arise that affect payment processing capabilities such as bugs, technical glitches, and cyberattacks. When POS devices still utilize analog data modems, but the server side must move to VoIP, there is even more reason for concern.
With the ongoing transition from traditional analog telephone lines to VoIP, credit card processing companies are facing major obstacles when it comes to seamlessly processing transactions. POS credit card terminals utilize a specialized modem feature set that is tailored to the quick and accurate processing of payment transactions. This means that standard off the shelf modem banks will not be adequate replacements for POS applications and the payment processing center requires modem banks which support these POS features. Transaction processing must also utilize error detection and recovery schemes over their communication channels to ensure the accuracy of financial settlements to keep things operating efficiently.
Analog modulations are inherently prone to bit errors, requiring communications protocols which verify the integrity of the received data stream. These protocols including High-Level Data Link Control (HDLC) and Synchronous Data Link Control (SDLC), which both provide error detection through the use of a 16-bit or 32-bit Cyclic Redundancy Check (CRC). Upon detection of a damaged frame, Automatic Repeat Requests (ARQ) can be issued to the transmitting modem to facilitate a retransmission of the data. Additionally, time optimized and non-standard modem negotiations such as V.22 Fast Connect, V.22bis Fast Connect and V.29 Fast Connect are used. Standard modulations could require fifteen to thirty seconds for their connection time before they can begin the transaction processing. These Fast Connect optimizations ensure quick authorization by reducing the time required to establish a data channel (under four seconds). The exact set of features utilized for POS will depend on terminal vendors and software implementation. A POS modem bank must be able to support all of the variations deployed within the customer base.
Most of these specialized hardware platforms have already reached the end of their service life and manufacturing of parts and servers has been discontinued. This leaves credit card companies in a vulnerable position where an ordinary hardware failure can result in a disruption of critical business operations with no immediate remedy possible. These legacy hardware solutions also require expensive PRI and POTS connections which many telephone carriers no longer provide. This makes POS payment processing a perfect candidate for migration to Voice over IP (VoIP) based technology with the help of VOCAL Technologies.
VOCAL Helps Make A Smooth Transition To The Cloud
Different forms of transactions happen daily to keep businesses moving forward in a positive direction. To ensure transactions are flowing smoothly, financial companies need to equip themselves with the knowledge of what new technology solutions are available in the marketplace that offer POS modem support on VoIP networks. As rapid technological advances in communications are putting pressure on traditional Dial-In modems and usage of the traditional analog telephone network is becoming more and more problematic; IP based infrastructure is becoming even more prominent forcing payment processors to make a technology pivot of their own. Making the right transition at the right time is the key to success and finding the right solution to help ease the costs of migration is imperative during this transition period of analog to VoIP phone networks.
VOCALs SIP Analog Modem Server (SAMS) can help credit card processing companies seamlessly migrate to VoIP technology with a fully software-based package that removes the need for old hardware and expensive PRIs, while introducing the flexibility of cloud-based deployments. VOCAL Technologies has been leading the way since 1986 in the design of software and hardware solutions under license for voice, video, and facsimile and data communications. The company develops and applies advanced technologies for superior voice, video, fax and data communications. With a broad range of innovative design solutions that yield the highest quality communications at the lowest cost; it was a natural fit that VOCAL developed a unique solution to help credit card processing companies easily migrate to the cloud.
Over the last couple of decades, technology-specific services have been migrating to a packet switching technology over the public internet in the form of VoIP. While VoIP, a telecommunication service that takes analog audio signals and converts them into digital data transmitted over standard Internet connections, has caused many issues for data modem communications. It has also proven to be an opportunity for tremendous cost savings and more reliable connections. VoIP protocols have been designed with voice service in mind. This means that traditional analog modems used by existing payment terminals are now facing compatibility issues and creating a product that can facilitate this transition requires a sophisticated understanding of both data modem operations and modern VoIP networks which can only be obtained through years of experience within these specific industries.
VOCAL Helps Businesses Stay In Business
As the analog network is growing closer to becoming obsolete; it's important for credit card processing companies to find a modern modem that can operate under these new technological constraints while remaining compatible with their existing payment terminals. The ever more rapid advancement and adaptation of new technologies has left a gap in legacy communication systems. E1/T1 and analog POTS lines are increasingly being replaced by Ethernet based VoIP systems, leaving financial companies with modem technology that can no longer work within the new telecom infrastructure. Hardware solutions are no longer available for purchase or repair and existing deployments are preventing successful cloud transitions. Most are looking for a simple solution to help make the transition seamless without having to change their entire infrastructure and disrupt business. It is becoming clearer that a software solution is the only resolution to this issue. And that solution is VOCAL's SIP Analog Modem Server (SAMS).
SAMS simply replaces the server-side modem that is used for terminating calls for both transaction processing (authorization) and firmware/configuration updates for the remote terminals. Benefits include major cost savings by not having to replace existing endpoint hardware and no longer having to maintain a physical server on premise. In addition, the migration to cloud deployment makes Geo-redundancy much easier. Most hardware modem manufactures are well into the sunset period for their legacy modem solutions and credit card companies are finding that their modem servers have reached end-of-life and are no longer supported by the manufacturer. As a result, replacement parts can no longer be found. This creates an urgent problem as a hardware failure threatens to bring down an organizations' critical operations for an indefinite period. Maintaining these physical modems and analog lines are also major blocking factors for companies that are making the transition to virtualized and cloud-based network infrastructures.
Time is of the essence for credit card processing companies that rely heavily on hardware equipment and endpoint devices that use modems to communicate. Between the VoIP transition, obsolete end-of-life hardware, and cloud migration it is crucial that Point-of-Sale teams quickly come up with a plan for business continuity when these factors converge and they find themselves with the critical problem of being unable to process credit card transactions. In most cases, the remote modems cannot be replaced due to the high costs associated with replacing the existing infrastructure.
Keeping Information Flowing Smoothly
As the financial industry continues to evolve and face many challenges with the move from analog to VoIP phone lines; VOCAL knew it was the right time to develop a software solution that was fully compatible with the latest payment terminals. Their goal was to keep information flowing and help make the transition to VoIP less costly with no downtime. With cloud-based modems now a firm reality; the VOCAL SIP Analog Modem Server, or SAMS, is a unique IP-based software solution for inter-operating with legacy modems without the need for hardware modem banks with E1/T1 connections. This Virtual Modem Server allows a company to deploy a server in the cloud, which can work with the modern VoIP phone network infrastructure based on SIP and RTP, instead of using T1/E1 lines to connect to the PSTN. The Virtual Modem server contains true soft-modems and not just an AT command set on a TCP socket pretending to be a modem. This allows the server to connect to true voice band modems deployed on the PSTN, and thus does not require installation of additional equipment. The Virtual Modem Server supports a rich feature set enabling Point of Sale payment processing including HDLC, SDLC, VISA-I and VISA-II, V.22 Fast Connect, and V.29 Fast Connect. It also supports standard modem modulations capable of handling terminal configuration and firmware updates. This complete feature set facilitates interoperability with Dial-up Point-of-Sale terminals including those from Verifone, Hypercom, PAX, Ingenico, and many others. Connections to the backend processing system can be encapsulated with TLS to ensure additional security within the PCI zone. With no hardware required, VOCAL has given credit card companies a cost-effective solution that allows them to see a high ROI in an extremely short timeframe.
VOCAL's SAMS solution is currently used in over 48 credit card processing/financial companies worldwide. This powerful solution is helping customers in the US, Canada, Europe, Australia, United Kingdom, Germany, Japan, Korea, New Zealand, Sweden, Finland, and Spain make a smooth transition to VoIP. Once installed, SAMS typically pays for itself within a four-to-six-month timeframe and offers credit card companies huge cost savings by eliminating the need to maintain a physical server on-site. VOCAL has taken a technology disruption and turned it into a graceful transition that is keeping information flowing smoothly to ensure that businesses stay in business for the long haul.