VOCAL Technologies, Ltd., a leading developer of software and hardware solutions for the communications industry, is pleased to announce their enhanced Modem over IP solution has been implemented in the MoNet MoIP Gateway from Teletics, a specialized communications equipment manufacturer.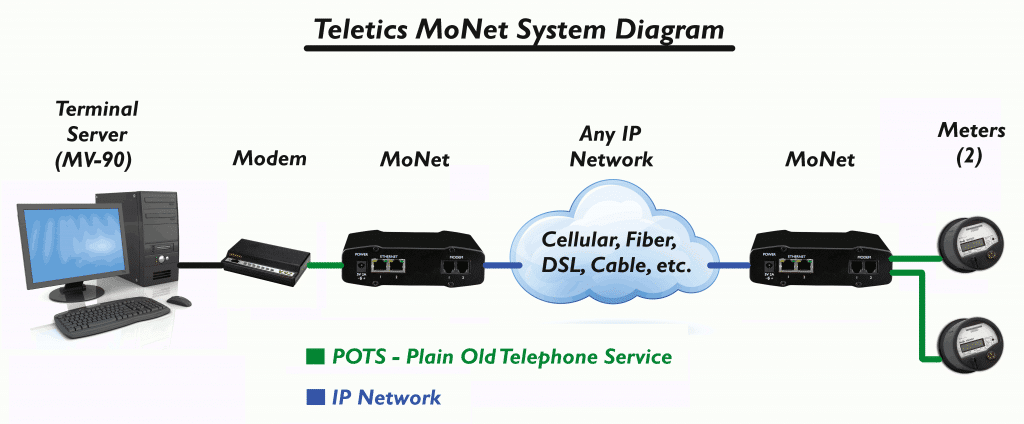 Access to vital business data is provided by countless modems in remote devices around the world including utility meters, card readers for POS and security systems, as well as SCADA or telemetry modems. The MoNet allows access to these modems over the internet, cellular data networks, WiFi, or private WANs with significant cost savings over phone lines. As Eric Larson, VP of Sales and Marketing at Teletics, explains "Dialing into a MoNet site from a customer's host computer is … well, just like using a modem."
VOCAL's Modem over IP solution is based on their Remote Access Server over IP (RASoIP)TM technology which combines networked remote access server functionality with a full set of ITU standard data modem protocols at the local device to replace the dial-up remote server gateway. It supports MoIP at the end-points to enable legacy modem access over IP networks. Using the Session Initiation Protocol (SIP), data can be delivered using a variety of transport protocols.
"One of the beauties of this technology is that it doesn't require the network or voice service providers to be involved" says David Satterlee, Project Engineer at VOCAL Technologies. "It isolates the strict real-time processing to the local device making it highly resistant to the effects of network delays and packet loss."
VOCAL's MoIP designs can be easily ported to a variety of different hardware platforms and even fielded equipment. Our MoIP technology is based on VOCAL's extensive data and fax modem experience. VOCAL provides all of the telephone line data modem standards up through and including V.90/V.92 as well as V.34 fax.
"Our engineering expertise with today's leading processors is a tremendous benefit to our customers." adds David Jamieson, Business Development at VOCAL Technologies, Ltd. "This enables Teletics to integrate VOCAL's software with their applications for remote modem access, bring these products to market quickly, and provide immediate cost savings for their customers."