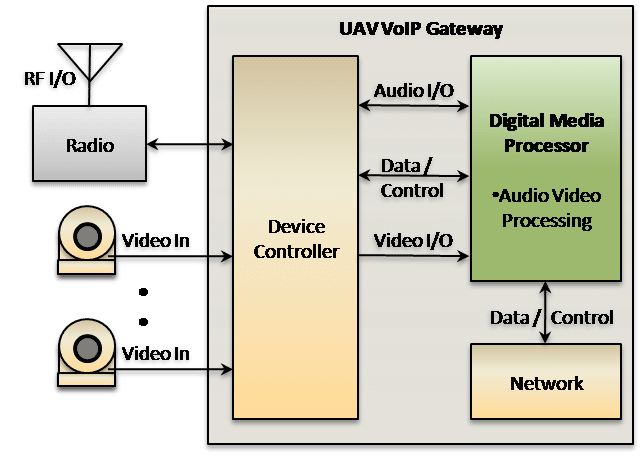 VOCAL's UAV VoIP Gateway solution enables unmanned aerial vehicle audio, video and radio communications over IP networks using VoIP protocols.
UAV/UAS communications
Remote sensing and surveillance
Audio, video, radio and data relay
Low power/low bandwidth applications
Independent multi-channel devices
Full and half duplex radio communications
Secure communications
Proven VoIP interoperability
Optimized code for DSPs, X86 and ARM
VOCAL's extensive telecommunications design and development experience and our comprehensive customization support will help you meet your UAV and UAS application requirements.  Customized interfaces for radio, device and sensor operational controls are also available.  Contact us for a demo or to discuss your specific UAV VoIP gateway application and performance requirements.
Features
Multi-channel support for independent devices
Voice codecs include MELPe, G.711, G723.1, G.726, G.729AB, OPUS and iLBC vocoders
H.264 video resolutions from QCIF to 1080p60
Full-duplex and half-duplex radio communications
SIP, RTP and/or RTSP support for multiple VoIP providers
Encrypted communication using SRTP with SDES or proprietary key negotiation
Network stack with NAT/firewall support
High performance noise preprocessor
Quality of service configurable
WAN / WLAN support
UAV VoIP Gateway Software
VOCAL's UAV VoIP gateway software solution is ideal for low power and low bandwidth communications and video surveillance applications used with Unmanned Aircraft (UA) as well as ground and naval systems. The VoIP gateway provides a standards-based product with an extensive features list that can be configured for different payloads, waveforms and missions.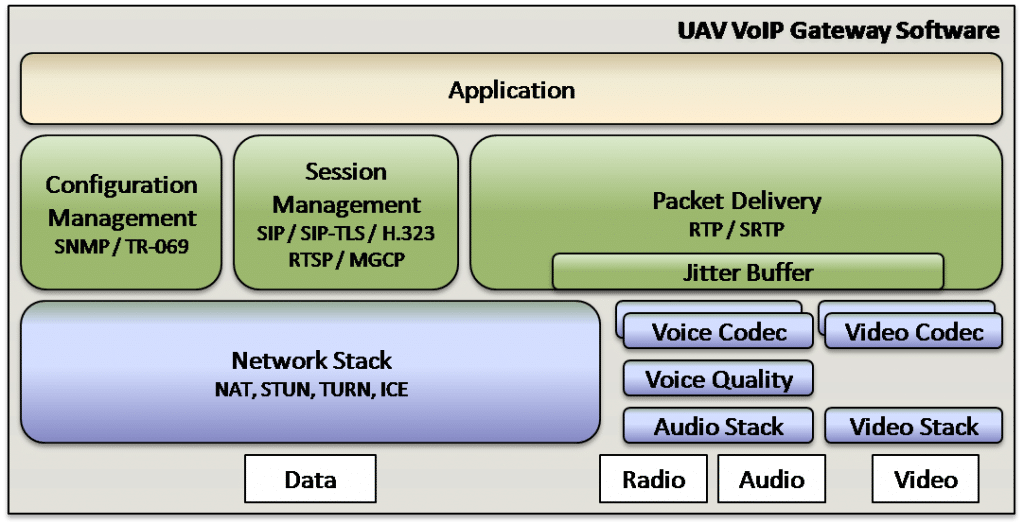 The UAV VoIP Gateway converts between bi-directional or broadcast audio, video and radio applications and IP networks over a VoIP connection using SIP or RTSP.  Media streams are transmitted using RTP. The gateway accepts audio, video and radio communications from a wireless (or wired) network for output to the corresponding UAV on-board device.


Applications
Our UAV VoIP Gateway design can be used in numerous UA/UAV/UAS applications, including:
Aerial surveillance and communications relay for search and rescue
Law enforcement
Tactical communications relay for a MANET connecting radio networks and other UAVs
Data collection and relay of remote SCADA systems used for security monitoring and environment management.
Wireless Access Points (AP) and backhaul to the core network for cellular networks
UAV Interoperability
VOCAL ensures UAV/UAS compatibility and interoperability testing using many VoIP providers. Our VoIP software works seamlessly with servers from Cisco, NetCentrex, Quintum, Asterisk, 3CX, OpenSIPS, FreeSwitch and other vendors.  Device configuration can be completely managed using a web interface.  For further information regarding compatibility and interoperability testing, please contact us.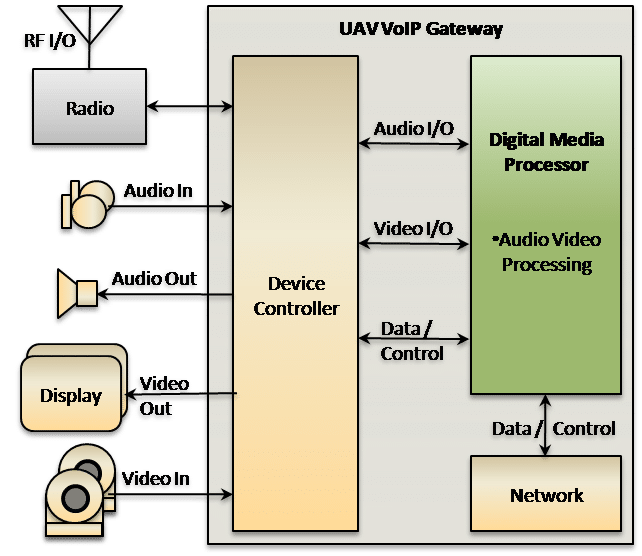 UAV Sensor Configurations
VOCAL's UAV VoIP gateway can be configured with a variety of sensors for air, ground and naval unmanned vehicles for remote sensing, search & rescue, agriculture and other commercial applications.
Our VoIP solution supports radio and video devices typically used in unmanned aerial vehicle applications as well as other devices such as microphones, loudspeakers and even displays.
Specialized devices for remote sensing can also be supported using VoIP protocols to transmit sensor data.
Features
VoIP Protocols

Security Protocols

SRTP
SDES
SSLv3/TLSv1
HTTPS
IPsec

Encryption

AES
DES
3-DES
CCMP
RC4
SHA-1
RSA

Network Protocols

IPv4
TCPUDP
ICMP
RARP
ARP
DNS
DHCP Client
NTP
SNTP
STUN
HTTP
FTP / TFTP
QoS

NAT/Firewall Support

Built-in Router
NAT Traversal
NAT Firewall
Port Forwarding
LAN Pass Through
PPPoE

Video Codecs

Voice Codecs

MELP / MELPe
G.711
G.722 / G.722.1 / G.722.2
G.729AB
CS-ACELP
SILK
OPUS

Voice Features

VAD / DTX / CNG
Packet Loss Concealment (PLC)
Adaptive Jitter Buffer
Audio Codec Preferences
Dynamic Payload Negotiation
Configurable Frames per Packet

Noise Preprocessor

Active Noise Cancellation
Frequency Domain Noise Reduction