Dual Microphone Adaptive Noise Reduction (ANR) is an adaptive signal processing solution, which utilizes two microphones to remove microphone noise and improve the signal quality.  Dual Mic solutions provide are great front-end to any voice communications and control system.  The Noise Cancellation algorithm quickly adapts to the changing background noise conditions, while providing minimal distortion to the desired source signal.
Adding a second microphone to a system design provides the ability to sample the noise of the acoustic environment.  This noise reference signal can be subtracted from the original microphone.  The dual microphone noise reduction software is an adaptive microphone filtering solution, which estimates the transfer function between the two microphones.  ANR is often a better solution than single microphone noise reduction algorithms because the noise spectrum changes more quickly over time than the transfer function of the noise source.

Dual channel ANR is a system identification adaptive filtering problem, very similar to line and acoustic echo cancellation.   As shown in the figure below, one input source, M1, contains a desired signal and a linear transformed copy of the noise source.  The second input source, M2, contains a reference of the noise source signal.  An adaptive filter can be applied to the M2 and subtracted from M1 to generate the noise cancelled output signal.  The noise source in signals M2 is correlated and linear transformed version of the noise source in M1.  The optimal microphone filter can be found which will minimize the output power.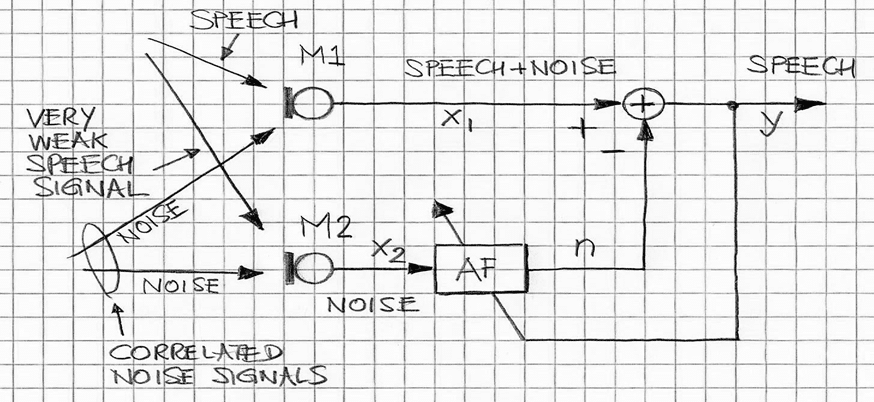 VOCAL's ANR is available as a standalone module or as part of a comprehensive VoIP System customizable to most platforms and environments. The ANR is available for several different platforms.  This includes true DSPs such as Texas Instrument's 64x, 62x, 55x, and 54x families as well as ADI's Blackfin, SHARC and 218x families. General-purpose CISC/RISC architectures such as PowerPC, PowerQUICC, x86, ARM, and MIPS are also supported.
More Information on Noise Reduction
Platforms

VOCAL's optimized Dual Microphone Adaptive Noise Reduction software is available for the following platforms.  Please contact us for specific supported platforms and performance information.
Processors
Operating Systems

Texas Instruments – C6xx (TMS320C62x, TMS320C64x, TMS320C645x, TMS320C66x, TMS320C67x), DaVinci, OMAP, C5xx (TMS320C54x, TMS320C55x)
Analog Devices – Blackfin, ADSP-21xx, TigerSHARC, SHARC
PowerPC, PowerQUICC
MIPS – MIPS32, MIPS64, MIPS4Kc
ARM – ARM7, ARM9, ARM9E, ARM10E, ARM11, StrongARM, ARMCortex-A8/A9/A15/A3x/A5x/A7x, Cortex-M3/M4/M7/M33
Intel / AMD – x86, x64 (both 32 and 64 bit modes)

Linux, uClinux, BSD, Unix
Microsoft Windows ACM / RTC / CE / Mobile
Apple iOS / iPhone / iPad & MacOS
VOCAL LANsEND
Google Android
Green Hills Integrity
Micrium μCOS
Symbian
Wind River VxWorks
eCOS / eCOSPro