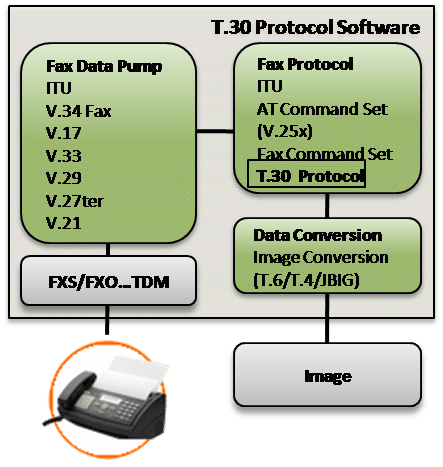 T.30-E Color Fax software allows users to send and receive color facsimiles per the ITU T.30-E Color Fax standard. The T.30 protocol itself provides software developers complete Group 3 facsimile control. The T.30E color fax libraries are modular and can be configured to support multichannel applications. The software can be executed as a single task under a variety of operating systems or standalone with its own microkernel. Contact us to discuss your fax software application requirements.

VOCAL's T.30-E color fax software is optimized for DSPs and RISC/CISC processors from ADI, ARM, TI, Intel and other vendors. It is available standalone, as an embedded library, or with a VoIP stack. Custom designs are available to meet specific developer requirements.
T.30-E Color Fax Protocol
T.30-E color fax protocol uses an encoding methodology for continuous-tone (multilevel) color images based on the lossy mode of encoding based on the Discrete Cosine Transform (DCT) of JPEG (T.81) image encoding standard. T.30-E uses Forward Error Correction defined in T.42 and adopts a device-independent color space representation, the CIELAB space, which allows unambiguous exchange of color information.
Recommendation T.30-E also indicates the procedure for negotiation of the capabilities for transmission of continuous-tone color and gray-scale images. T.30-E fax protocol specifies the definitions and the specifications of new entries to the Facsimile Information Field of the DIS/DTC and DCS frames of Recommendation T.30. The information includes image digitization resolution (in bits/pel), spatial resolution, sampling ratio of color components, JPEG capability, color capability, and image data scaling that is subject to negotiation in the pre-message phase of the T.30 protocol.
The technical features of T.30-E color fax encoding and decoding the continuous-tone color and gray-scale image data are described in Annex E/T.4. It describes two modes of image encoding (lossy gray-scale and lossy color) which are defined using Recommendation T.81.
Features
Supports control of facsimile high speed modulations up to V.34fax 33,600 bps.
T.30 session control and negotiation
Supports facsimile polling operation
Supports procedure interrupts
Optional Error Correction Mode (ECM) available
Optional Binary File Transfer (BFT) available
T.4 1-dimensional Image Decoding/Reencoding
T.4 2-dimensional/ T.6 Image Decoding/Reencoding available
In-band data format conversion support available
Multi-tasking environment compatible
Configurations
Configurable for standalone operation (no command set layer required).
Facsimile Relay / Facsimile-Over-IP(T.Ifax2) configurations available
Error Correction Mode memory can be maintained off-system. (Recent modifications to the T.30 specification have reduced the ECM memory size requirement from 64k bytes to 16k bytes, however 64k bytes is still recommended for backward compatibility.)
Facsimile service class 2 command sets such as T.32 "class 2.1", EIA-592 "class 2.0" and industry standard "class 2" are available.
Multiple protocol ports can be executed on a single DSP.
VOCAL's Overall Modem Controller (OMC) Layer provides coordinated data modem/ facsimile operation relative to dialing procedures, Data/Facsimile/Voice Distinction upon startup.
Supports overlayment of data and facsimile protocol memory space where applicable.
Platforms

VOCAL's optimized fax software is available for the following platforms. Please contact us for specific T.30-E fax protocol supported platforms.
Processors
Operating Systems

Texas Instruments – C6xx (TMS320C62x, TMS320C64x, TMS320C645x, TMS320C66x, TMS320C67x), DaVinci, OMAP, C5xx (TMS320C54x, TMS320C55x)
Analog Devices – Blackfin, ADSP-21xx, TigerSHARC, SHARC
PowerPC, PowerQUICC
MIPS – MIPS32, MIPS64, MIPS4Kc
ARM – ARM7, ARM9, ARM9E, ARM10E, ARM11, StrongARM, ARM Cortex-A8/A9, Cortex-M3/M4
Intel / AMD – x86, x64 (both 32 and 64 bit modes)

Linux, uClinux, BSD, Unix
Microsoft Windows ACM / RTC / CE / Mobile
Apple iOS / iPhone / iPad & MacOS
eCOS / eCOSPro
Google Android
Green Hills Integrity
Micrium μCOS
Symbian
Wind River VxWorks

VOCAL LANsEND