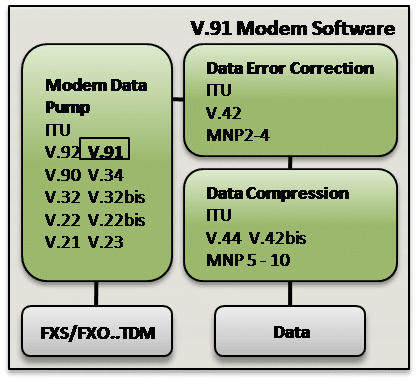 V.91 modem software is fully compliant with the ITU V.91 Recommendation and optimized for most architectures. ITU-T V.91 specifies the operation of a duplex digital modem for use on a 4-wire circuit switched connection and on leased point-to-point 4-wire digital circuits at data signalling rates of up to 64 kbit/s. Contact us to discuss your V.91 modem application requirements.

VOCAL's V.91 modem software is optimized for performance on leading DSP architectures and processors from TI, Intel, ADI, AMD and other vendors. Our modem software may be licensed standalone, as a library or complete design. Custom designs are also available to meet specific modem application requirements.
Virtual Modem over IP
VOCAL's SIP Software modem (MoIP or V.MoIP) solution provides developers a range of solutions to connect legacy dial up modems to modem infrastructure. Unlike other virtual modem designs, the SIP software modem can communicate with a physical modem at the far end using a VoIP service over an IP network.
V.91 Software Features
Duplex mode of operation on a 4-wire digital connection;
Channel separation by 4-wire connection;
PCM modulation at a rate of 8 ksymbols per second;
Synchronous channel data signalling rates from 28 kbit/s to 64 kbit/s in increments of 8/6 kbit/s;
An optional control channel that uses 125 bit/s of the primary channel data signalling rate and allows for a 67.5 bit/s secondary channel data signalling rate;
Adaptive techniques to achieve close to the maximum data signalling rate that the channel can support on each connection;
Support of transparent mode on unrestricted 64 kbit/s channels;
Exchange of rate sequences during start-up to establish the data signalling rate;
Automoding to devices supporting V.8, and optionally V.8 bis, procedures.
V.91 Modem
The V.91 digital modem is specified in terms of coding, start-up sequences, operating procedures and DTE-DCE interface functionalities. ITU V.91 includes an optional control channel and support for transparent mode on unrestricted 64 kbit/s channels. The network interface and the signalling rate that is used to connect the V.91 modem locally to a 4-wire connection are considered to be country specific matters and are hence not specified.
Platforms

VOCAL's optimized software is available for the following platforms. Please contact us for specific V.91 supported platforms.
Processors
Operating Systems

Texas Instruments – C6000 (TMS320C62x, TMS320C64x, TMS320C645x, TMS320C66x, TMS320C67x), DaVinci, OMAP, C5000 (TMS320C54x, TMS320C55x)
Analog Devices – Blackfin, ADSP-21xx, TigerSHARC, SHARC
PowerPC
MIPS – MIPS32, MIPS64, MIPS4Kc
ARM – ARM7, ARM9, ARM9E, ARM10E, ARM11, StrongARM, ARM Cortex-A8, Cortex-M1
Intel / AMD – x86, x64 (both 32 and 64 bit modes)

Google Android
Apple iOS / iPhone / iPad & MacOS
Unix, Linux, μClinux, BSD
Microsoft Windows ACM / RTC / CE / Mobile
Symbian
eCOS / eCOSPro
Wind River VxWorks
Green Hills Integrity
VOCAL LANsEND
Micrium μCOS
Links