56K Modem Software supports real-time multichannel applications. The embedded 56K softmodem libraries are modular and can be executed as a single task under a variety of operating systems or standalone with its own microkernel. Contact us to discuss your modem application.

VOCAL's 56K modem software is optimized for performance on leading DSP architectures and processors from TI, Intel, ADI, ARM and other vendors. Our modem software may be licensed standalone, as a library or complete design. Custom solutions are also available to meet your specific 56K modem requirements.
Virtual Modem over IP
VOCAL's SIP Software modem (MoIP or V.MoIP) solution provides developers a range of solutions to connect legacy dial up modems to modem infrastructure. Unlike other virtual modem designs, the SIP software modem can communicate with a physical modem at the far end using a VoIP service over an IP network.
56K Analog Digital Modem
56k (Determined February 1998) refers to procedures between a "digital modem" and an "analog modem". The analog modem, which may be connected to the PSTN through either an analog or digital interface, transmits V.34 signals and receives G.711 PCM signals. The digital modem, which is connected to the PSTN through a digital interface, transmits G.711 PCM signals and receives V.34 signals.
56k refers to analog/digital configurations. Future ITU recommendations or extensions may refer to digital/digital configurations and/or PCM transmit and receive for an analog/digital configuration.
Features
Compliant with draft upgrades as recommendation is approved.
Modem MIB Support (RFC 1696).
Specifies 22 modulation rates in range of 28000 bps to 56000 bps, in increments of 1 1/3 kbps. (Administration requirements may restrict maximum rates/power allowed).
Multi-tasking environment compatible.
Configurations
As per terminology above, three 56k modem system configurations are relevant: systems that implement an analog modem only, systems that implement a digital modem only, and systems in which the modem can take on the role of either an analog or digital modem.
Depending upon 56K modem configuration selected, the line interface may be an analog front end (codec and DAA) or a digital interface such as T1/E1, switched 56 and ISDN. The upper end of this software can provide PPP, V.14, HDLC or direct binary framing layers. Higher data protocol layers, V.42 (including MNP 2-4), V.44, V.42bis and MNP5 are options as well.
The 56K modem modulation family can be combined with other data modulations (V.92, V.34, V.32bis/V.32, and V.22bis/ V.22/V.23 V.21). V.8/V.8bis startup procedures can be used. All data modulation software is fully compatible with VOCAL's facsimile, telephony, speech coder and multimedia systems.
Other options include:
Analog modem DAA interface using linear codec at 16.0 kHz sample rate.
Digital modem direct interface to 8.0 kHz PCM data stream (A-law or μ-law).
PPP (RFC1662), V.14, HDLC and direct binary framing layers available.
North American and International Dialing/Telephony functions available.
Data protocol layer (V.42/MNP2-4/V.44/V.42bis/MNP5) available.
System can be combined with V.110 rate adaptation software.
System can be combined with other modulations (V.92, V.34, V.32bis, et al.) and automode procedures (V.8bis, V.8 and PN-2330).
Data/Facsimile/Voice Distinction upon startup available. Complete facsimile systems, modulations (V.34, V.17 et al.) and protocols (T.30), and speech coders available.
56K Modem Block Diagram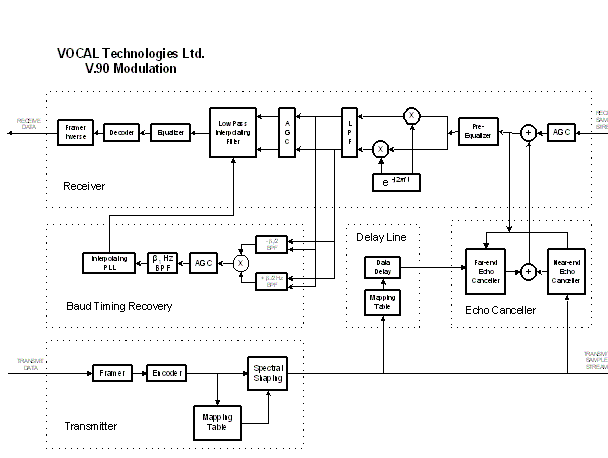 VOCAL's

56K modem

software design supports

analog-

digital modem configurations
Platforms

VOCAL's software is available for the following platforms:
Texas Instruments – C6000 (TMS320C62x, TMS320C64x, TMS320C645x, TMS320C67x), C5000 (TMS320C54x, TMS320C55x), OMAP3 (OMAP35x, OMAP36x), OMAP4 (OMAP44x), Sitara (AM37x)
Analog Devices – Blackfin, TigerSHARC, SHARC
ARM – ARM7, ARM9, ARM9E, ARM10E, ARM11, StrongARM, ARM Cortex-A8
PowerPC
MIPS – MIPS32, MIPS64, MIPS4Kc
Intel / AMD – x86, x64 (both 32 and 64 bit modes)
Operating Systems
Google Android
Apple iOS / iPhone / iPad & MacOS
Unix, Linux, μClinux, BSD
Microsoft Windows ACM / RTC / CE / Mobile
Symbian
eCOS / eCOSPro
Wind River VxWorks
Green Hills Integrity
VOCAL LANsEND
Micrium μCOS
Please contact us for other 56k modem supported Operating Systems.