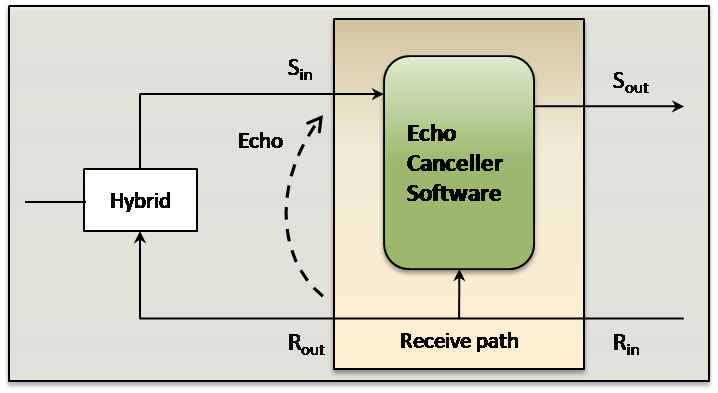 G.168 Line Echo Canceller Software is fully compliant with ITU G.168 specification as well as satisfies our own rigorous proprietary tests. Our line echo canceller software is designed to pass and exceed requirements using any of the G.168-2015 echo path models as well as applicable customer models. VOCAL provides robust echo cancellation and noise reduction algorithms that can be configured to significantly reduce echoes and remove residual noise from the voice signal. Contact us to discuss your voice application requirements.

VOCAL has developed a range of line / network echo canceller solutions which are installed world-wide and used in the public telephone system and TDM echo cancellation circuits, VoIP applications, and many other types of manufactured products. VOCAL's experts can help you select and configure the algorithms that best fit your needs.
The G.168 Line Echo Cancellation algorithm is available standalone, as part of an embedded library, or with a complete ATA/VoIP Gateway solution. Our G.168 software is optimized for DSPs and conventional processors from TI, ADI, ARM, AMD, Intel and other leading vendors. Custom solutions are also available.
G.168 Line Echo Canceller
The G.168 specification was developed to address and standardize the performance for line echo cancellation in the PSTN. G.168 strictly limits the convergence time, allowed residual echo, tolerance for varying signal levels, and allowed divergence in the presence of destabilizing narrow-band energy. The line echo cancellation requirements also specify the performance of any additional non-linear processing such as clamping and/or suppression, ability to handle data communication, and disabling signals such as the modem 'ANSam' tone. Addendums to the original G.168 specification from 1997 further restricted and quantified the requirements for line echo cancellation algorithm compliance.

G.168 Line Echo Canceller must be placed in the 4-wire portion of a circuit (which may be an individual circuit path or a path carrying a multiplexed signal). While intended for use in the PSTN, the extremely high performance and versatility of G.168 compliant algorithms allow them to be used in a wide variety of applications for line noise cancellation. For VoIP and embedded devices, the line echo canceller may be placed after an audio codec (such as G.711, G.722, G.723.1, G.726, G.728, G.729, G.729A, G.729AB, GSM, MELPe, etc.) to reduce the echo from local or customer hardware.
Like all of VOCAL's software libraries, our G.168 line echo cancellation algorithm is available in a variety of forms, including ANSI C and assembly language implementations optimized for leading DSP architectures. The line echo canceller libraries are modular and can be executed standalone with its own microkernel or as a single task under a variety of operating systems.
Features
Fully compliant with ITU G.168-2015 Recommendations
Rapid convergence and re-convergence ( for echo path changes)
Double talk detection
No divergence during double talk
Adjustable tail length to 32 msec for full compliance
Adjustable tail length to 128 msec with restricted compliance
Proper operation during facsimile and low speed (<9.6 kbit/s) voice-band data transmissions
Disables automatically in the presence of ANSam
Excellent tone rejection and narrow band stability
Non-linear processing (NLP) with Comfort Noise Generator (CNG)
DC Offset Correction
Bulk Echo Delay Estimator
Utilizes Normalized LMS (NLMS)
Tone detector and hold release logic
Supports multiple channels
Supports user callable functions
Easily portable, re-entrant and re-locatable code
Standards Compliance
VOCAL's LEC/NEC software solutions are designed to pass G.168-2015 requirements using any echo path models defined by G.168-2015 as well as customer models, provide they fit to the echo path coverage of the echo canceller using G.168-2015 testing.
VOCAL's line echo cancellation modules pass the standard ITU G.168 Test Suite:
Test No. 2 – Convergence and Steady state residual and returned echo level tests
Test No. 2A – Convergence and Re-convergence tests with NLP enabled
Test No. 2B – Convergence and Re-convergence tests with NLP disabled
Test No. 2C – Convergence test in the presence of background noise
Test No. 3 – Performance under conditions of double talk
Test No. 3A – Double talk test with low cancelled-end levels
Test No. 3B – Double talk test with high cancelled-end levels
Test No. 3C – Double talk test under simulated conversation
Test No. 4 – Leak rate test
Test No. 5A – Infinite return loss convergence test
Test No. 5B – Re-convergence during call transfer test
Test No. 6 – Non-divergence on narrow-band signals
Test No. 7 – Stability test
Test No. 9A – Comfort noise test with step change of background noise level
Test No. 9B – Comfort noise test with dynamic change of background noise level
Test No. 10 – Facsimile test during call establishment phase
Test No. 10A – Canceller operation on the calling station side
Test No. 10B – Canceller operation on the called station side
Test No. 14 – Performance with V.Series Low-speed Data Modems
Test No. 15 – PCM offset test
Test No. 16 – DTMF Transparency Test
Proprietary G.168 Line Echo Canceller Test Compliance
As an experienced leader in this field, VOCAL has identified shortcomings in the G.168 standard and has implemented several additional test sets to guarantee world-class performance of our G.168 line echo canceller software in the harshest acoustic environments. All of our line echo cancellation modules must pass these VOCAL specific tests in addition to the standard ITU G.168 Test Suite, as well as undergo voice testing in our labs.
VOCAL Test 2D – improved echo power test
VOCAL Test 3D – double talk in the presence of tones
VOCAL Test 5D – improved line change detection
VOCAL Test 7D – improved narrow band rejection
VOCAL Test 9D – improved comfort noise tracking
VOCAL Test 9E – comfort noise tracking during singletalk
VOCAL Test 9F – comfort noise tracking during doubletalk
VOCAL Test 9G – comfort noise transitions
VOCAL Test 21 – ANSam detection
More Information
Platforms

VOCAL's software is available for the following platforms. Please contact us for specific G.168 supported platforms and performance data.
Processors
Operating Systems

Texas Instruments – C6xx (TMS320C62x, TMS320C64x, TMS320C645x, TMS320C66x, TMS320C67x), DaVinci, OMAP, C5xx (TMS320C54x, TMS320C55x)
Analog Devices – Blackfin, ADSP-21xx, TigerSHARC, SHARC
PowerPC, PowerQUICC
MIPS – MIPS32, MIPS64, MIPS4Kc
ARM – ARM7, ARM9, ARM9E, ARM10E, ARM11, StrongARM, ARM Cortex-A8/A9, Cortex-M3/M4
Intel / AMD – x86, x64 (both 32 and 64 bit modes)

Linux, uClinux, BSD, Unix
Microsoft Windows ACM / RTC / CE / Mobile
Apple iOS / iPhone / iPad & MacOS
eCOS / eCOSPro
Google Android
Green Hills Integrity
Micrium μCOS
Symbian
Wind River VxWorks
VOCAL LANsEND