Multi-Band Dynamic Range Compression (DRC) software is audio signal processing algorithm which limits the difference between the minimum and maximum signal levels.  VOCAL's Dynamic Range Compression is available as an individual software library module or as part of VOCAL's customizable Voice Quality Enhancement (VQE) SDK.  

DRC is a useful signal processing tool for both playback and capture audio. DRC is often implemented after Automatic Gain Control (AGC) in a VQE package to help minimize the effect of overshoot artifacts. Multi-band DRC is critically important for products that need to adhere to ITU and TIA Telephone performance standards. Multi-band DRC provides the implementer the flexibility and control to compress the frequency bands as needed to meet loudness requirements.
Dynamic Range Compression Features
C callable functions
Floating point and optimized fixed-point code available
Narrowband (8kHz) to Full-band (48kHz) sampling rates supported
16-bit and 32-bit (for 24-bit audio samples) API
Multiple Knee Point Configuration Parameters

Knee Point Threshold
Upward or Downward Compression
Hard or Soft Knee
Compression Ratio
Attack and Release Times

The number of bands and bandwidth configurable upon request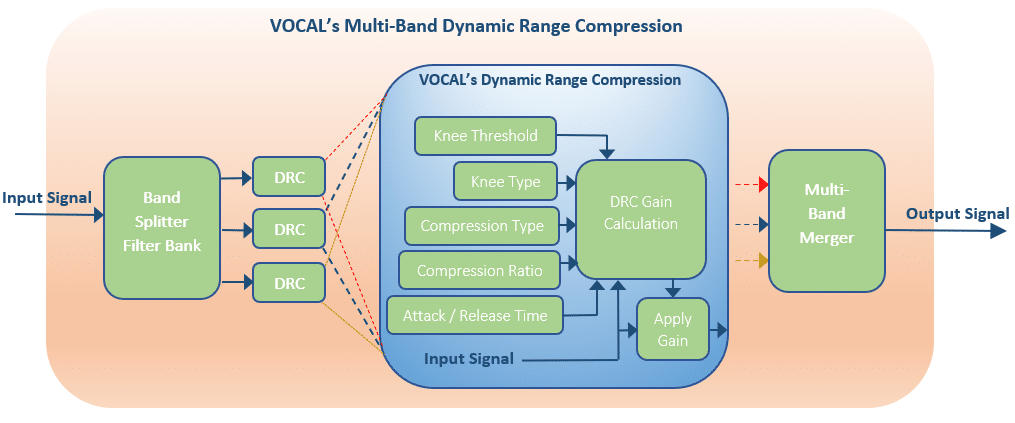 Dynamic Range Compression Applications
Handheld PTT Radios
TIA-4953 compliant telephone devices
Any application where the audio signal needs to constrained to a SPL range 
More Information
Platforms

VOCAL's dynamic range compression software is available for the following platforms. Please contact us for specific vocoder supported platforms and performance information.
Processors
Operating Systems

Texas Instruments – C6xx (TMS320C62x, TMS320C64x, TMS320C645x, TMS320C66x, TMS320C67x), DaVinci, OMAP, C5xx (TMS320C54x, TMS320C55x)
Analog Devices – Blackfin, ADSP-21xx, TigerSHARC, SHARC
PowerPC, PowerQUICC
MIPS – MIPS32, MIPS64, MIPS4Kc
ARM – ARM7, ARM9, ARM9E, ARM10E, ARM11, StrongARM, ARMCortex-A8/A9/A15/A3x/A5x/A7x, Cortex-M3/M4/M7/M33
Intel / AMD – x86, x64 (both 32 and 64 bit modes)

Linux, uClinux, BSD, Unix
Microsoft Windows ACM / RTC / CE / Mobile
Apple iOS / iPhone / iPad & MacOS
VOCAL LANsEND
Google Android
Green Hills Integrity
Micrium μCOS
Symbian
Wind River VxWorks
eCOS / eCOSPro