Combined Video Scaler and Sharpener reduces the algorithm complexity in video processing.  Video scaling increases the output resolution greater than the input resolution.  Video sharpening enhances subjective video quality by making edges and texture transitions steeper.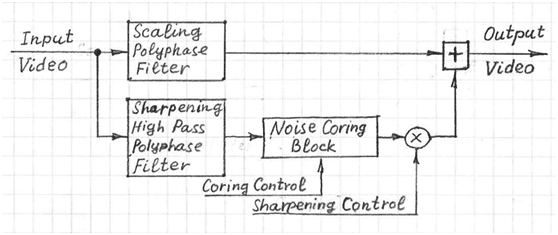 In many applications scaling and sharpening are combined into one block to reduce the complexity, especially the number of line stores. Therefore both the scaling block and sharpening block are implemented as polyphase filters. The scaling polyphase filter increases the video frame resolution, while the sharpening polyphase filter uses the same ratio to scale only the high frequency portion of the video frames.
The noise coring block processes the sharpening polyphase filter output to decrease noise boosting.
To control the level of sharpening smoothly and with a small granularity, the sharpening polyphase filter output is multiplied by the sharpening control value before adding back to the already scaled signal.
More Information