TSVCIS Improves Speech Quality
In tactical secure voice communication devices, there are two common impairments to the speech quality: adverse acoustic noise environment and noisy RF channels. In order to combat these issues, the Tactical Secure Voice Cryptographic Interoperability Specification (TSVCIS) utilizes a variable data rate (VDR) speech coder, and forward error correction (FEC).
STANAG 4591 MELPe 2400 is the fundamental component to speech compression. MELPe 2400 does include a noise pre-processor prior to the encoding stage, but in loud non-stationary noise environments, quality of the compression still suffers. Appendix E and Appendix F wideband waveforms still use MELPe 2400 for interoperability with narrowband modes, but introduces added encoded speech data to enhance the MELPe result.
In noisy RF conditions, bit errors are introduced into the bitstream, which causes improper decoding of the speech data. In both narrowband and wideband waveforms, FEC is used to correct the bit errors of the channel. Wideband waveforms utilize the extra bandwidth with FECs that have higher error correcting capabilities. For TSVCIS Appendix H, a channel with a BER of 10% can be lowered to less than 1%.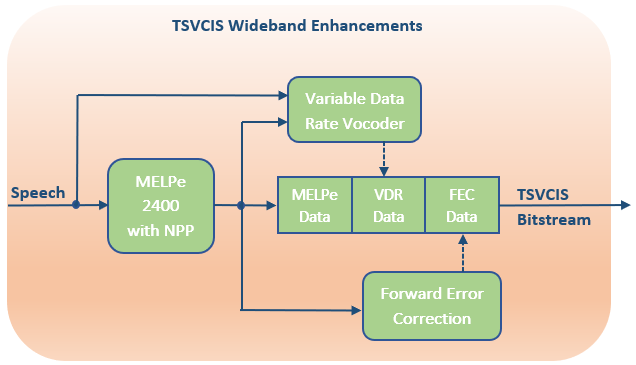 All of the TSVCIS modes are dynamically selectable, so the user or an algorithm can change the modes to use more FEC data or encoded speech data to improve the speech quality of the communication.
Platforms

VOCAL Technologies, Ltd. TSVCIS software includes BCH and Hamming FEC, along with MELPe and VDR vocoder software. Please contact us to learn more about our TSVCIS and RoIP software solutions.
Processors
Operating Systems

Texas Instruments – C6xx (TMS320C62x, TMS320C64x, TMS320C645x, TMS320C66x, TMS320C67x), DaVinci, OMAP, C5xx (TMS320C54x, TMS320C55x)
Analog Devices – Blackfin, ADSP-21xx, TigerSHARC, SHARC
PowerPC, PowerQUICC
MIPS – MIPS32, MIPS64, MIPS4Kc
ARM – ARM7, ARM9, ARM9E, ARM10E, ARM11, StrongARM, ARMCortex-A8/A9/A15/A3x/A5x/A7x, Cortex-M3/M4/M7/M33
Intel / AMD – x86, x64 (both 32 and 64 bit modes)

Linux, uClinux, BSD, Unix
Microsoft Windows ACM / RTC / CE / Mobile
Apple iOS / iPhone / iPad & MacOS
VOCAL LANsEND
Google Android
Green Hills Integrity
Micrium μCOS
Symbian
Wind River VxWorks
eCOS / eCOSPro