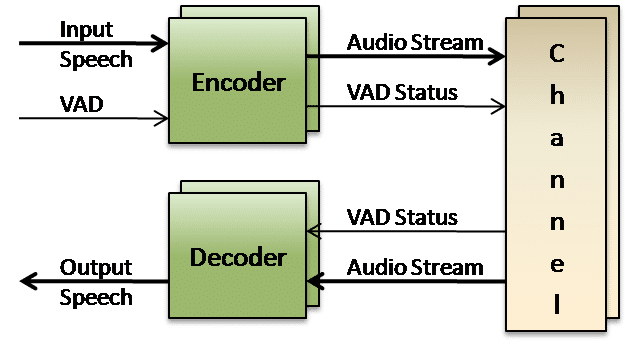 VOCAL's LPC-10e codec is implemented per Federal Standard 1015. The LPC-10e vocoder forms the basis for another linear predictive coder (LPC) known as MELP. Contact us to discuss your voice application requirements.
LPC-10e software is optimized for leading DSPs and conventional processors from ADI, TI, Intel, ARM and other vendors. VOCAL offers the LPC-10e vocoder software as a standalone algorithm, as part of a modular software library, as well as with a VoIP stack. Custom designs are also available.
Features
FS 1015 compliant for enhanced version LPC-10e
Sampling rate: 8 kHz
Platforms

VOCAL's optimized vocoder software is available for the following platforms. Please contact us for specific LPC-10e codec supported platforms.
Processors
Operating Systems

Texas Instruments – C6xx (TMS320C62x, TMS320C64x, TMS320C645x, TMS320C66x, TMS320C67x), DaVinci, OMAP, C5xx (TMS320C54x, TMS320C55x)
Analog Devices – Blackfin, ADSP-21xx, TigerSHARC, SHARC
PowerPC, PowerQUICC
MIPS – MIPS32, MIPS64, MIPS4Kc
ARM – ARM7, ARM9, ARM9E, ARM10E, ARM11, StrongARM, ARM Cortex-A8/A9/A15, Cortex-M3/M4
Intel / AMD – x86, x64 (both 32 and 64 bit modes)

Linux, uClinux, BSD, Unix
Microsoft Windows ACM / RTC / CE / Mobile
Apple iOS / iPhone / iPad & MacOS
eCOS / eCOSPro
Google Android
Green Hills Integrity
Micrium μCOS
Symbian
Wind River VxWorks

VOCAL LANsEND
Performance
Links