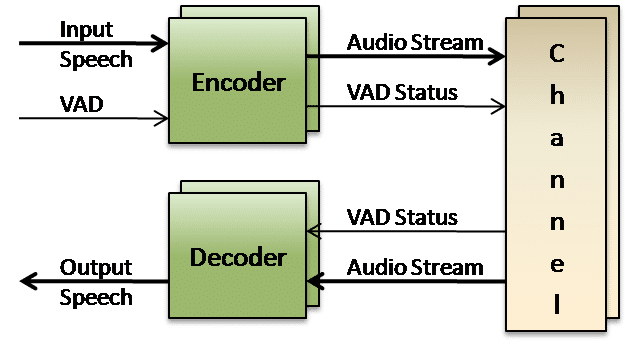 G.722 Vocoder
Wideband audio codec (50 to 7,000 Hz)
High quality speech for HD VoIP

Real-time multi-channel implementation

Optimized for DSPs, RiSC, CISC processors
ITU G.722 compliant
VOCAL's G.722 vocoder may be used for a variety of higher quality speech applications such as HD VoIP. Contact us to discuss your G.722 codec application requirements.
VOCAL's G.722 voice compression software is optimized for leading DSPs and RISC/CISC processors from TI, ADI, ARM, Intel and other vendors. Our G.722 speech coder may be licensed as a standalone algorithm, as part of a modular software library suite, as well as with a VoIP stack for application integration options. Custom designs are also available to meet unique software requirements.
G.722 Codec
The G.722 codec algorithm describes the characteristics of an internet wideband audio codec (50 to 7 000 Hz) used for a higher quality speech applications including HD VoIP. G.722 encoding uses sub-band adaptive differential pulse code modulation (SB-ADPCM) within a bit rate of 64 kbps. The system is referred as 64 kbps (7 kHz) audio coding.
In the SB-ADPCM technique used, the frequency band is split into two sub-bands (higher and lower) and the signals in each sub-band are encoded using ADPCM. The system has three basic modes of operation corresponding to the bit rates used for 7 kHz audio coding: 64, 56 and 48 kbps. The latter two modes allow an auxiliary data channel of 8 and 16 kbps respectively to be provided within the 64 kbps by making use of bits from the lower sub-band.
G.722 Encoder
The 64 kbps (7 kHz) audio encoder uses 64 kbps for audio coding at all times irrespective of the mode of operation. The G.722 audio coding algorithm has been chosen such that, without sending any indication to the encoder, the least significant bit or two least significant bits of the lower sub-band may be used downstream from the 64 kbps (7 kHz) audio encoder in order to substitute the auxiliary data channel bits. However, to maximize the audio performance for a given mode of operation, the 64 kbps (7 kHz) audio decoder must be optimized to the bit rate available for audio coding. G.722 describes three variants of the SB-ADPCM decoder and, for applications requiring an auxiliary data channel, an indication must be forwarded to select in the decoder the variant appropriate to the mode of operation.
The 64 kbps (7 kHz) audio encoder includes a transmit audio part which converts an audio signal to a uniform digital signal which is coded using 14 bits with 16 kHz sampling and a SB-ADPCM encoder which reduces the bit rate to 64 kbps.
G.722 Decoder
The 64 kbps (7 kHz) audio decoder includes a SB-ADPCM decoder which performs the reverse operation to the encoder, noting that the effective audio coding bit rate at the input of the decoder can be 64, 56 or 48 kbps depending on the mode of operation and a receive audio part which reconstructs the audio signal from the uniform digital signal which is encoded using 14 bits with 16 kHz sampling.
The three basic possible modes of operation which correspond to the bit rates available for audio coding at the input of the G.722 decoder are: mode 1 – 64 kbps, mode 2 – 56 kbps, and mode 3 – 48 kbps.
Features
Full and half duplex modes of operation
Passes ITU test vectors
Compliant with G.722 specification
Optimized for high performance on leading edge DSP architectures
Multichannel implementation
Multi-tasking environment compatible
Configurations
DAA interface using linear codec at 8.0 kHz sample rate
Direct interface to 8.0 kHz PCM data stream (A-law or μ-law)
North American/International Telephony (including caller ID) support available
Simultaneous DTMF detector operation available – (less than 10 talkoff hits on Bellcore test tape set)
MF tone detectors, general purpose programmable tone detectors/generators available
Data/Facsimile/Voice Distinction available
Common compressed speech frame stream interface to support systems with multiple speech coders
Dynamic speech coders selection if multiple speech codecs available
Can be integrated with Acoustic Echo Canceller, G.168 Line Echo Canceller and Tone Detection/Regeneration modules
Available with integrated VoIP stack
More Information
Platforms

VOCAL's optimized vocoder software is available for the following platforms. Please contact us for specific vocoder supported platforms and performance information.
Processors
Operating Systems

Texas Instruments – C6xx (TMS320C62x, TMS320C64x, TMS320C645x, TMS320C66x, TMS320C67x), DaVinci, OMAP, C5xx (TMS320C54x, TMS320C55x)
Analog Devices – Blackfin, ADSP-21xx, TigerSHARC, SHARC
PowerPC, PowerQUICC
MIPS – MIPS32, MIPS64, MIPS4Kc
ARM – ARM7, ARM9, ARM9E, ARM10E, ARM11, StrongARM, ARMCortex-A8/A9/A15/A3x/A5x/A7x, Cortex-M3/M4/M7/M33
Intel / AMD – x86, x64 (both 32 and 64 bit modes)

Linux, uClinux, BSD, Unix
Microsoft Windows ACM / RTC / CE / Mobile
Apple iOS / iPhone / iPad & MacOS
VOCAL LANsEND
Google Android
Green Hills Integrity
Micrium μCOS
Symbian
Wind River VxWorks
eCOS / eCOSPro