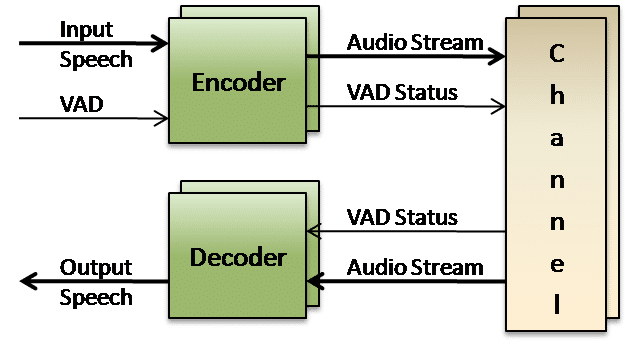 G.722.2 AMR-WB vocoder
Wideband audio codec (50 to 7,000 Hz)
High quality speech for HD VoIP
Mobile, VoIP and Voice Conferencing
Real-time multi-channel implementation
Optimized for DSPs, RiSC, CISC processors
ITU G.722.2 compliant
VOCAL offers the G.722.2 Adaptive Multi-Rate Wideband (AMR-WB) vocoder in several forms for use with high quality VoIP applications. Contact us to discuss your G.722.2 vocoder application requirements.
VOCAL's G722.2 AMR-WB voice compression software is optimized for leading DSPs and conventional processors from TI, ADI, AMD, ARM, Intel and other vendors. Our G.722.2 speech coder may be licensed as a standalone voice compression algorithm, as part of a modular software library suite, or with a VoIP stack. Custom designs are also available to meet unique voice codec requirements for our clients.
G.722.2 Codec
The G.722.2 AMR-WB algorithm is used as an internet wideband audio codec for VoIP applications with an audio band of 50 – 7000 Hz instead of the 200 – 3400 Hz used with traditional telephony. The increased bandwidth improves the intelligibility and naturalness of speech significantly. G.722.2 describes the detailed mapping from input blocks of 320 speech samples in 16 bit uniform PCM format to encoded blocks of 132, 177, 253, 285, 317, 365, 397, 461 and 477 bits and from encoded blocks of 132, 177, 253, 285, 317, 365, 397, 461 and 477 bits to output blocks of 320 reconstructed speech samples.
The coding scheme for the multi-rate coding modes is the so called Algebraic Code Excited Linear Prediction Coder, hereinafter referred to as ACELP. The multi-rate wideband ACELP coder is referred to as AMR-WB. G.722.2 also utilizes an integrated Voice Activity Detector (VAD). The sampling rate is 16 000 samples/s leading to a bit rate for the encoded bit stream of 6.60, 8.85, 12.65, 14.25, 15.85, 18.25, 19.85, 23.05 or 23.85 kbit/s.
G.722.2 Annexes
Annexes A and B and Appendix I provide supplemental functionalities allowing interoperability with GSM and 3GPP wireless systems. These functionalities have originally been developed for these systems, but their use is not limited to mobile applications. Two other Annexes D and E describe test vectors and frame structure respectively.
Applications
Voice over IP (VoIP) and Internet (IP) applications
Mobile Communications
PSTN applications
ISDN wideband telephony
ISDN videotelephony and video-conferencing
Features
Full and half duplex modes of operation
Passes ITU test vectors
Compliant with G.722.2 specification
Optimized for high performance on leading edge DSP architectures
Codes 16 bit linear PCM sampled at 16khz
9 data rates (6.6 to 23.85 kbps)
Voice Activity detection and Comfort Noise Generation
Multichannel implementation
Multi-tasking environment compatible
Configurations
DAA interface using linear codec at 8.0 kHz sample rate
Direct interface to 8.0 kHz PCM data stream (A-law or μ-law)
North American/International Telephony (including caller ID) support available
Simultaneous DTMF detector operation available – (less than 10 talkoff hits on Bellcore test tape set)
MF tone detectors, general purpose programmable tone detectors/generators available
Data/Facsimile/Voice Distinction available
Common compressed speech frame stream interface to support systems with multiple speech coders
Dynamic speech coders selection if multiple speech codecs available
Can be integrated with Acoustic Echo Canceller, G.168 Line Echo Canceller and Tone Detection/Regeneration modules
Available with integrated VoIP stack
More Information
Platforms

VOCAL's optimized vocoder software is available for the following platforms. Please contact us for specific vocoder supported platforms and performance information.
Processors
Operating Systems

Texas Instruments – C6xx (TMS320C62x, TMS320C64x, TMS320C645x, TMS320C66x, TMS320C67x), DaVinci, OMAP, C5xx (TMS320C54x, TMS320C55x)
Analog Devices – Blackfin, ADSP-21xx, TigerSHARC, SHARC
PowerPC, PowerQUICC
MIPS – MIPS32, MIPS64, MIPS4Kc
ARM – ARM7, ARM9, ARM9E, ARM10E, ARM11, StrongARM, ARMCortex-A8/A9/A15/A3x/A5x/A7x, Cortex-M3/M4/M7/M33
Intel / AMD – x86, x64 (both 32 and 64 bit modes)

Linux, uClinux, BSD, Unix
Microsoft Windows ACM / RTC / CE / Mobile
Apple iOS / iPhone / iPad & MacOS
VOCAL LANsEND
Google Android
Green Hills Integrity
Micrium μCOS
Symbian
Wind River VxWorks
eCOS / eCOSPro