There are many applications in which a desired sound source is located a far distance (> 6 feet) from the microphone, such as voice assistant devices, covert surveillance and ceiling mounted conferencing systems. The obvious downfall of having a talker located far from a microphone is the low signal-to-noise ratio (SNR) and the low direct path to reverberation ratio (DRR). When the distance of the sound source doubles the sound pressure level (SPL) decreases by 6 dB. For example, conversational speech has a SPL of approximately 60 dB at 3 feet, 54 db at 6 feet, 48 dB at 12 feet, and so on. Since the noise levels and reverberation time are independent of distance, the SNR and DRR will follow the same 6 dB decrease as the distance doubles.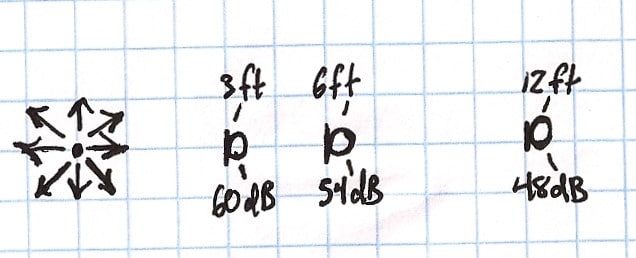 To combat the low SNR and DRR of far-field sound sources, multiple microphones can be integrated into the product design along with beamforming algorithms. Beamforming performs spatial filtering using the microphone array, and a beam directed towards the desired sound source will improve the SNR and DRR. Beamforming will improve the DRR because reflections can be treated as separated sound sources emanating from different directions and will be attenuated. For classical beamforming algorithms, such as delay and sum, the white noise gain of a beam is 3 dB for 2 microphones, and increases by 3 dB when the number of microphones doubles. 4 microphones will have a SNR improvement of 6 dB, 8 microphones will have an SNR improvement of 9 dB, and so on. Therefore, a microphone array with beamforming will make it seem as though the user is closer to the device than they actually are, making the system more effective in the far-field than single microphone designs.

VOCAL Technologies, Ltd. offers a variety of beamforming algorithms that can be used in devices looking to have good audio performance in the far-field. Please contact us to learn more.