Audio ducking is integrated into a audio system to ensure that an important signal takes precedence over another signal. An audio ducking module takes two input signals, and attenuates (i.e. "ducks) the audio level of the first input signal when second signal has been determined to be active. The notification of the when second signal is active can be supplied through a manual control function or algorithmically by a voice activity detector or double-talk detector. The control function is often referred to as the side chain.
VOCAL's audio ducking software features include:
Configurable Side Chain Mode
Narrowband to Fullband Sampling Rates supported
Configurable Attack, Release and Hold Times
Simple C interface
What is Audio Ducking?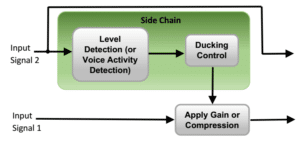 Audio ducking is a common audio effect applied to music performances or recordings. For example, when a DJ start speaking, the volume of the music is reduced. Or when the level of one instruments tracks exceeds a level threshold, then the volume of another instrument's tracked is reduced.
In telecommunication applications, one application of audio ducking is in smart speakers and hands-free audio communication terminals. When there is an active audio signal being played out the loudspeaker, such as far-end speech or music, the acoustic coupling between the loudspeaker and the microphones can make it difficult for the local user to interject. In this scenario, the near-end speech to playback echo ratio (NER) is very low or less than 0, often due the proximity factor (the loudspeaker is closer to the microphone than the user is to microphone). When it has been determined there is near-end speech, the loudspeaker audio can be temporarily attenuated or muted to improve the NER and help guarantee the near-end speech is heard.

VOCAL offers off-the-shelf and customizable audio processing modules designed to meet your audio requirements. Please contact us to learn more.  VOCAL's software may be  licensed standalone, as a library or part of a complete design. Our software libraries are optimized for leading microprocessors and DSPs from ARM, TI, ADI, Intel, AMD and other vendors.
Related Information
Platforms

VOCAL's optimized software is available for the following platforms. Please contact us for specific noise reduction supported platforms.
Processors

Operating Systems

Texas Instruments – C6xx (TMS320C62x, TMS320C64x, TMS320C645x, TMS320C66x, TMS320C67x), DaVinci, OMAP, C5xx (TMS320C54x, TMS320C55x)
Analog Devices – Blackfin, ADSP-21xx, TigerSHARC, SHARC
PowerPC, PowerQUICC
MIPS – MIPS32, MIPS64, MIPS4Kc
ARM – ARM7, ARM9, ARM9E, ARM10E, ARM11, StrongARM, ARM Cortex-A8/A9/A15, Cortex-M3/M4
Intel / AMD – x86, x64 (both 32 and 64 bit modes)

Linux, uClinux, BSD, Unix
Microsoft Windows ACM / RTC / CE / Mobile
Apple iOS / iPhone / iPad & MacOS
eCOS / eCOSPro
Google Android
Green Hills Integrity
Micrium μCOS
Symbian
Wind River VxWorks
VOCAL LANsEND