The VPBX Home Gateway Unit (VHGU) design consists of a gateway component and a voice processor component. The gateway component of the VHGU will control and manage all WAN interfaces, as well as LAN and WIFI devices. Please contact us to discuss your VPBX gateway requirements.

VPBX Home Gateway Design Components
The VHGU design consists of:
One FXS ports (provides BORSCHT functions to external telephone or FAX)
One FXO port (connects to an incoming PSTN telephone line)
One 10/100 Mbps WAN Ethernet port
Four 10/100 Mbps LAN Ethernet ports
One HPNA port (provides connectivity to VEDs)
One DSL or Cable Modem port
802.11b/g WLAN support
Power for VEDs over unused yellow/black POTS pair
Support for up to three VEDs
Monitor Central Office line for battery voltage and detection of parallel POTS phones
Monitoring of local phone line when ringing to identify parallel POTS phones and possibly other invalid user configurations
VPBX Home Gateway
The gateway also implements various networking features such as DHCP, NAT, firewalling, and provisioning. A block diagram of the gateway component is provided in Figure 1. Note that a particular hardware configuration will support either DSL or Cable Modem (not both).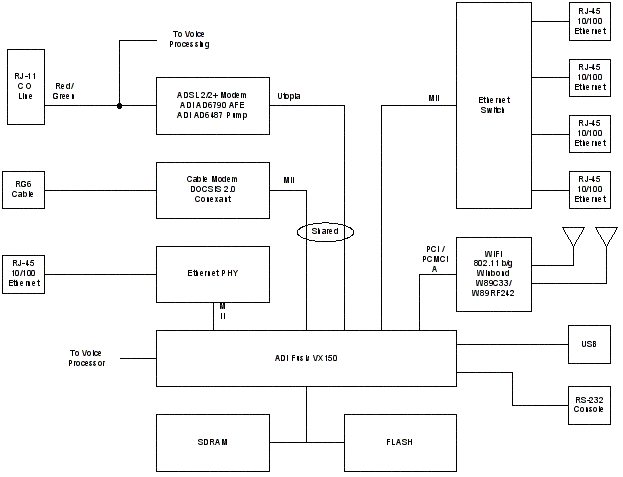 Figure 1. VOCAL VPBX Gateway Component
VPBX Voice Processor
The voice processor component of the VHGU implements all VOIP features and HPNA control of external VPBX Extension Devices (VEDs). The voice processor also provides power to external VEDs over an unused yellow/black pair in existing premise wiring. Should power to the VHGU fail, internal relays will automatically connect one or two FXS port directly to the Central Office RJ-11. A block diagram of the voice processor is provided in Figure 2.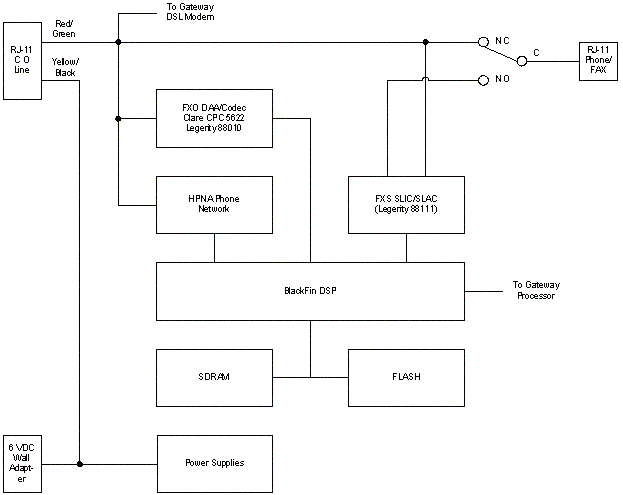 Figure 2. VOCAL VPBX Voice Processor Component