VOCAL's Psycho-Acoustic Bass Enhancement (PABE) software is a Voice Quality Enhancement (VQE) algorithm that can be applied to both the loudspeaker and microphone sample streams. PABE may be used for compensating for audio reproduction limitation where typical low frequency components are insufficiently rendered by the speakers and also for enhancement of audio due to its missing frequency components. PABE is more commonly used for enhancing audio played to small speakers which have insufficient low end frequency response. As a mitigating technique, PABE enhances the low frequency harmonics so that audio played to small speakers has the apparent richness of the low frequencies.
VOCAL also uses Psycho-Acoustic Bass Enhancement to improve the audio quality of bandlimited speech such as obtained from a telephone system. Low frequency content is often intentionally eliminated by telephone audio circuits and by many speech coders. PABE enhances the low frequencies that remain in the speech by stimulating additional low frequency harmonics. The results are subjective, but generally pleasant improvement of the decoded voice.
The PABE implementation operates in the time domain and is sufficiently parameterized. Generally, only a few parameters should be left exposed to end users but developers and integrators have extensive control of filter types, frequencies and gains. The following diagram illustrates the general organization of the processing components.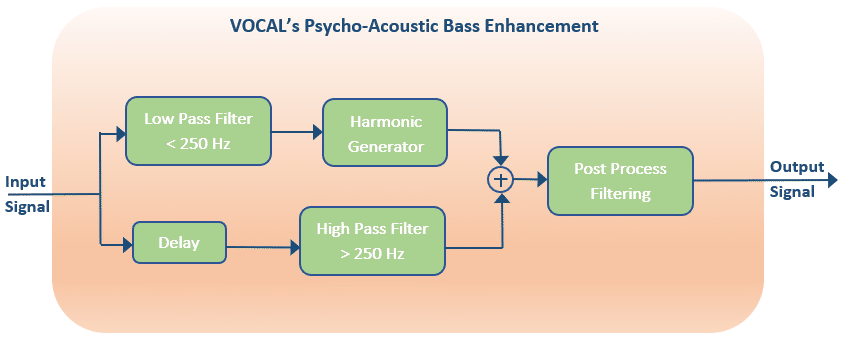 More Information
Platforms

VOCAL's Psycho-Acoustic Bass Enhancement software is available for the following platforms. Please
contact us regarding our Voice Quality Enhancement SDK supported platforms and performance
information.
Processors
Operating Systems

Texas Instruments – C6xx (TMS320C62x, TMS320C64x, TMS320C645x, TMS320C66x, TMS320C67x), DaVinci, OMAP, C5xx (TMS320C54x, TMS320C55x)
Analog Devices – Blackfin, ADSP-21xx, TigerSHARC, SHARC
PowerPC, PowerQUICC
MIPS – MIPS32, MIPS64, MIPS4Kc
ARM – ARM7, ARM9, ARM9E, ARM10E, ARM11, StrongARM, ARMCortex-A8/A9/A15/A3x/A5x/A7x, Cortex-M3/M4/M7/M33
Intel / AMD – x86, x64 (both 32 and 64 bit modes)

Linux, uClinux, BSD, Unix
Microsoft Windows ACM / RTC / CE / Mobile
Apple iOS / iPhone / iPad & MacOS
VOCAL LANsEND
Google Android
Green Hills Integrity
Micrium μCOS
Symbian
Wind River VxWorks
eCOS / eCOSPro