VOCAL's VoIP Reference Design enables licensees to rapidly develop standards-based, next-generation Voice over IP (VoIP) products with an extensive feature list and simple upgrade/expansion paths. Our VoIP terminal adapter solution far exceeds the competition in terms of cost advantage and time-to-market potential. Developers can achieve desired channel density while readily supporting integration of new features and modules. For VoIP to analog adapter applications in harsh environments, product component choices can include industrial parts designed for temperature ranges from -40ºC – +85ºC.
VoIP Design Features
VOCAL's Voice over IP functionality is available as part of a larger integrated Voice/Fax/Modem over IP solution.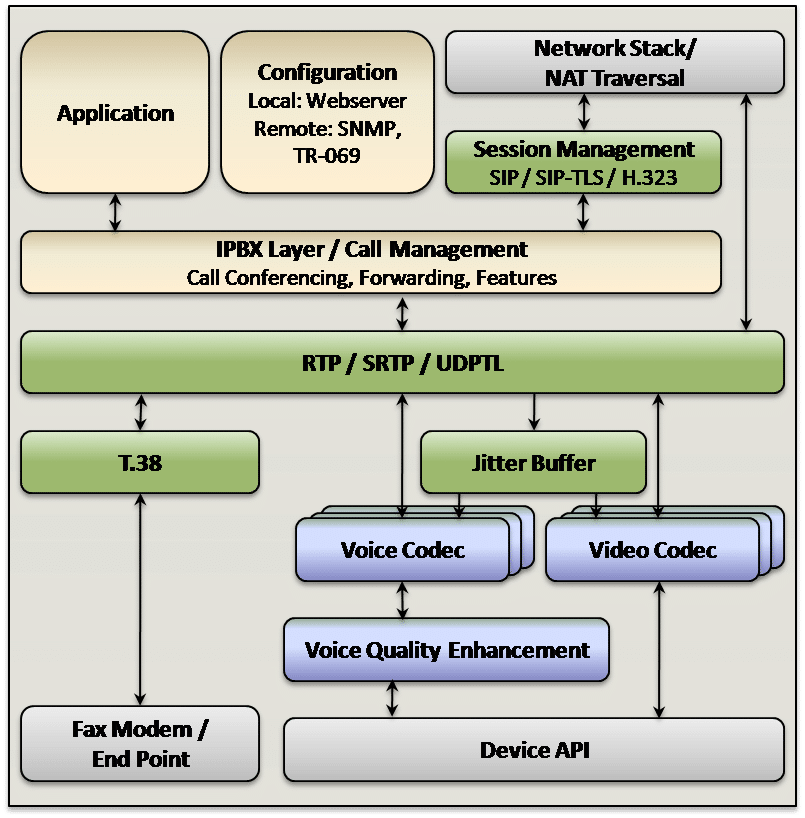 For a detailed description of all features and technical specifications please contact us. Design highlights include:
Device profiles from simple VoIP adapter to full multi-line iPBX
TI 55x or ADI Blackfin platforms
Support for multiple FXS and FXO ports and multiple ethernet ports
SIP and/or MGCP support multiple VoIP service providers
Secure communications using secure RTP (SRTP) with SDES or proprietary key negotiation
Network stack with NAT/firewall support
Voice codecs such as G.711, G723.1, G.726, G.729AB, MELPe, iLBC, Silk and Opus
High performance echo cancellation, noise reduction, and dereverberation
Comprehensive telephony features
Call progress tones with world-wide configurability
Flexible configuration and provisioning options
Production support for flashing code image, firmware configuration, and testing
VoIP DSP Software
VOCAL's state-of-the-art On-One™ DSP technology can significantly reduce VoIP terminal adapter materials cost. The highly optimized software runs all DSP functions and application protocols under its own simple network operating system where all high density processing can be performed on a single processor. Our VoIP Reference Design can also scale for use with a full operating system such as embedded Linux.
By offering a complete and customizable hardware and software VoIP terminal adapter solution as well as our On-One™ DSP technology, VOCAL can provide developers of voice and unified communications applications unsurpassed advantages in terms of cost and time-to-market. Contact us to discuss your VoIP application requirements.

VoIP Reference Design Kit
VOCAL's Design Kit consists of a customizable, fully-functional hardware and software solution including:
Schematics
BOM
Complete custom firmware
Technical engineering assistance with layout design and hardware bringup
Lifetime product maintenance and support